Court approves Raggi ban on fake centurions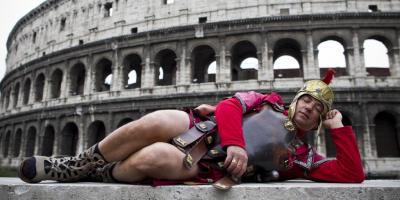 ROME - Lazio's regional administrative court (TAR) has given the go ahead to Raggi's banning of "centurions" in the historical centre of the Eternal City. The decree specifies "the prohibition of any activity that allows one to be dressed as a subject in historical clothing (for example as centurions), photographed or filmed, in return for financial gain." The court rejected the request sent by one centurion to suspend the Mayor's ordinance. 
 In a post on her facebook page, Raggi announced: "Lawfulness triumphs. The TAR has put our citizens and our administration first, and have passed our ban against co-called "centurions" in front of Rome's monuments. With my ordinance I wanted to guarantee citizens and tourists the right to enjoy the city's historical, artistic and cultural heritage. We have seen persistent, sometimes even aggressive, behaviour, too often. Today it has finally come to an end," she concluded.
 Enrico Lubrano, lawyer and representative for the Centurion Association said of the decision made by the administrative judges: "We will immediately submit a precautionary appeal to the State Council, requesting presidential precautionary measures, due to the obvious illegality of the order issued by Lazio's regional administrative court. The court did not consider the decision made by the previous Lazio court (favoured by centurions) that ruled that only ten centurions could work at once (as acknowledged by peaceful administrative law) and not to all "improvised" centurions. The presence of just ten recurrent centurions throughout the city would not have caused any problems for the beauty, security, and public enjoyment of Rome, which how now become a place of prejudice, because of the new ban imposed by the mayor.