No one fines rebel bathers in Rome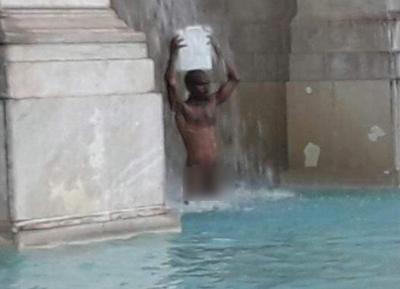 Naked man in the fontanone del Gianicolo
ROME - Whether to escape the 40 degree heat or just for fun, Rome's fountains are being treated as public swimming pools and not as historic monuments, despite supposedly being protected by the Commune of Rome, who have forbidden people from getting in the water. Police, however, are not handing out fines, and often news of the incident is spread by the culprits themselves on social media before later ending up in police records. 
For instance, on Monday, the man who got into the Fontana dell'Acqua Paola completely naked, in front of a married couple. He plunged into the water and washed himself there. "Another bath in a historic fountain in Rome, and yet another spoiling of the artistic and architectural heritage of our capital," sais Fabrizio Santori, regional councillor of Lazio from political party Fratelli d'Italia, who posted the photo on his Facebook profile.
"An intolerable offense to Rome and the Romans," Santori added. "Raggi had ordered a decree against setting up camp around the Capital's fountains in mid-June, including the Fontana dell'Acqua Paola, but obviously this individual was not aware of it, or there was no one to check the decree was respected. The 5 Star Movement should be those who are fined; they have no control of the city, it is now in a state of total abandonment."
The Trevi Fountain is out of bounds to rebel bathers, thanks to police on site. The same doesn't go for other fountains in the city centre, such as Acqua Paola and Piazza Mastai, where, just a few days ago, a group of tourists mistook the fountain for a public shower, complete with shampoo, escaping before the police arrived. 
Further cases have been reported at Valle Giulia, Fontana di Meyer, the Villa Borghese, and the Fontana dei Quattro Fiumi. With temperatures set to keep rising this week, this will not be the last we see of people using the fountains "creatively". 
vk