Rota leaves Atac, Raggi under fire from critics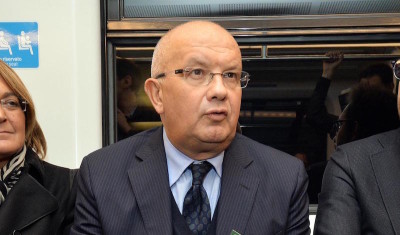 Bruno Rota, former Managing Director of Atac
ROME- Bruno Rota has left his position as Managing Director of Atac, the capital city's public transport agency has confirmed. His departure follows a disagreement with Rome's Mayor Virginia Raggi over comments made in an interview with Il Corriere della Sera, in which he publicised Atac's financial difficulties and criticised its lack of funding from the city council. Rota joined Atac in April 2017 and his appointment was celebrated accross the city; he was the former head of Milan's transport agency Atm and oversaw its revival.
 Rota wrote a letter of resignation on July 21 as he "was scared to stay" and "there needed to be a climate of trust to bring foward [his] proposed arrangements and there wasn't", he said in an interview with La Repubblica Roma on Saturday. He hit out at Raggi for claiming that he was fired, saying: "How can she even think of saying I was fired when I presented my official letter of resignation a whole week ago? Now I am fed up." He made it clear that the political environment and his relationship with Raggi was so hostile that he would not have been able to stay, even without being fired. 
 The former Atac director has also criticised Enrico Stefano, the President of the Transport Commission, who is reported to have asked him to make quick promotions of young employees instead of firing and hiring to solve the company's problems. The accusations of under-funding and poor management by Rome City Council has triggered debates and disagreements across the political spectrum.
 Matteo Renzi slammed the anti-establishment Five Star Movement's (M5S) role in the eternal city, to which Raggi belongs. "In Rome's transport company, the "Grillini" (supporters of M5S founder Beppe Grillo) who are supposed to be conducting a revolution appoint their friends of friends." Raggi responded: "No-one from M5S has ever made appointments out of favouritism. Renzi will be sued." City Councillor for Accounts and Assets, Andrea Mazzilo, vented to La Repubblica that many of his colleagues at the city council "have no relationship whatsoever to the elected politicians" and that "people who do not understand Rome" are chosen. His comments infuriated the Mayor, who responded: "I am telling all members of my team of advisors and council to not get distracted from their job. Who prefers creating drama will be kicked out of my team."
 Politicians are calling for Raggi to leave office following a dramatic few months for Rome. Vice President of the Senate Maurizio Gasparri called for elections to be moved forward: "Raggi must go. She has not only led Rome to disaster in the water emergency and the collapse of Atac, but has added lies upon lies".
 Rome's public transport is renowned for its inefficiencies, with irregular bus services and frequent breakdowns of vehicles. In keeping with the current polemic, part of its Metro Line A will be suspended between Termini station and Arco di Travertino from June 31 until September 5 to aid the completion of an extension on Metro Line C. Despite a replacement bus service being implemented, the company and Rome city council have been criticised for its decision to suspend one of its three Metro lines during busy summer months.
zt

Mayor of Rome Virginia Raggi on Roman public transport