Syracuse: an ancient town for culture and food lovers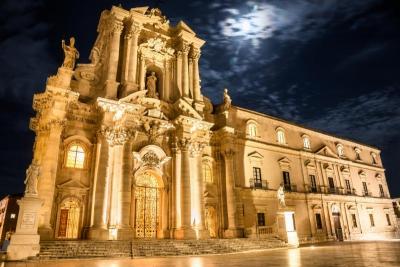 "Duomo di Siracusa" - Cathedral of Syracuse
SYRACUSE- Authentic Sicilian life and ancient Greek history merge together in the coastal town in Southeastern Sicily.
 With no sandy beaches located within the town's immediate vicinity, it is the cultural history and beautiful town centre which draws tourists and native Sicilians alike to visit the ancient town, as well as the Greek and Roman architecture and fresh seafood restaurants. Its collection of Greek and Roman temples and sites has led to its inclusion in the UNESCO World Heritage Site list from 2005 onwards.
 The 2,700 year old city used to be one of the major powers of the Mediterranean world and was founded by Ancient Greek Corinthians and Teneans. It was described by Cicero as "the greatest Greek city and the most beautiful of them all" and rivalled Athens in size during the fifth century BC. It then became part of the Roman Republic and Byzantine Empire. Syracuse's architecture and ancient sites reflects this rich cultural history in its varied and grandiose architecture. For example, the Sicilian Baroque Cathedral, which was once converted into a mosque in 878 AC, also contains a prehistoric Greek temple on its site and its celebrated Archaeological Park has both Greek and Roman ruins side by side.   
 The town is split into main residential Syracuse, whose small street bars that are frequented by elderly Sicilians give you a glimpse of authentic life, and Ortygia, the old town and small island jutting out into the sea. The island, which is 3km all the way around, is full of vespas, windy streets, local restaurants and the odd temple ruins. As soon as you cross the bridge to enter the old town, you find yourself opposite the ancient Greek Temple of Apollo which dates back to 6th century BC. Around the corner you reach the bustling port, where rows of bars offer drinks with an incredible sea view, so you can sit and dream of your ideal yacht whilst sipping on a cocktail. When you climb up to reach the Piazza del Duomo, the white-cream stone of the buildings and the sheer floor transports you back to ancient times and a short walk away, small pebble beaches offer a place to relax away from the bustling centre.
 As with all Sicilian towns, the Syracusean food and their specialities draws in food lovers. Neighbouring towns are famous over the world for their products, such as Pachino tomatoes, Avola wine, Sortino honey and lemons from Syracuse itself. The cuisine uses local ingredients and fresh seafood in its dishes, which typically include "pasta siricusana" (pasta with sardines and breadcrumbs) and "pasta con i frutti di mare" (seafood pasta).
 However, if you are in search of something a bit different, Syracuse serves as a great base for further exploration of the island of Sicily. It is an hour's drive from Catania in the north and a short drive from the baroque town Noto and some of Italy's most beautiful beaches, such as Avola and Capo Passero, to the south. That said, the charm of the historic town doesn't give you much reason to want to leave.
zt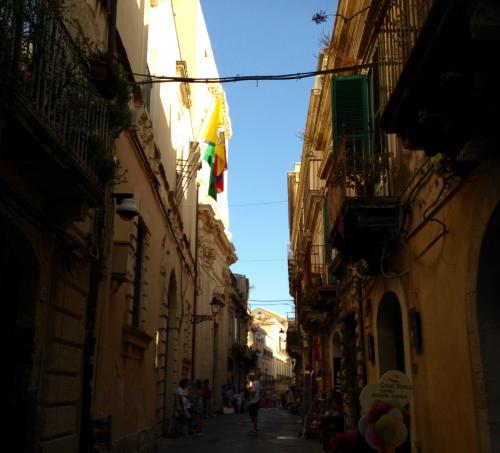 A view of the sea from Ortygia island