Wedding dress designer Maison Signore expanding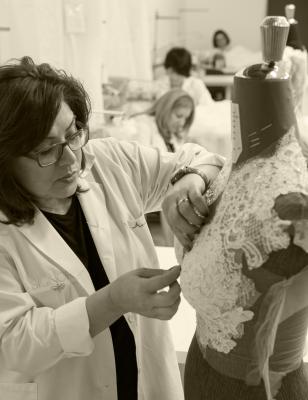 NAPLES - Luxury wedding dress designer Maison Signore is growing rapidly and seeks 15 qualified experts to join teams in the Naples and Caserta headquarters. Coveted positions available include seamstresses, events managers and sales consultants. 
 Maison Signore is truly a record-breaking company. It boasts over forty years of bridal fashion, two thousand square meters of showroom, more than three hundred different models of wedding dresses every year, and four collections: Excellence, Seduction, Victoria F and Giovanna Sbiroli, the historic Apulian brand acquired by Maison Signore only a few months ago. 
 All dresses are 100 per cent made in Italy, and hand-made by skilled tailors and embroiderers. The company prides itself on its ability to customise products for clients. Fabrics, materials and gemstones can be chosen by customers on demand. 
 The company continues to grow in international markets, appearing at trunk shows at bridal giant Kleinfeld in New York. Maison Signore was able to present its new 2018 collections in New York for the first time, and introduced demanding American brides to the Italian design, craftsmanship and professionalism which makes it so successful.
 "We are very happy to continue our growth," says the founder of the company Gino Lord, "offering development opportunities in an area that, after years of difficulty, is beginning to show gradual but lasting signs of recovery. The Made in Italy product, which mixes craftsmanship excellence and a look to the future, could be the key for the growth of the South."
 "We are looking for tailors because we firmly believe in the talents of young people," explains General Director Geri Natale. "There is a need for creativity, which is made up of ideas, the ability to dream, and to believe in those dreams coming true. Young people are those who can look realistically at the beauty of Made in Italy, and continue to perpetuate its fame and recognition abroad. Their energy will bring about the future of the sector as well as a new revival of the South.
 We need youth who know how to combine brains and feelings, ideas and manual skills for profiles like tailors, contemporary model-makers, using, of course, needles, scissors and wire, but also lasers; from true craftsmenship to modernity. We need to know how to invent and have vision.
 For tailors, in particular, research is more difficult, because for years the art has been neglected, wrongly considered to be unqualified in favour of more intellectual work, where hands are not required. In fact, and above all, for tailoring work, the head as well as the heart is required. Young people understand this and gradually, they are returning to love this ancient, noble craft.
 Maison Signore, the world's leading manufacturer of high fashion bridal gowns, is always looking for new talent and smart, motivated and resourceful people who want to join the team. The online job area is made to give opportunities and visibility to both young and old people who want to measure themselves against the fabulous world of high fashion bridal wear."
 Current vacancies include:
 Dressmakers: Ten years experience in high fashion bridal wear, autonomy and self-management, experience in modelling and cutting, and embroidery experience required.
 Sales Consultant: Ten years experience in retail and wholesale of luxury goods, flexibility to travel, fluent commercial knowledge of English, Japanese and Arabic languages required.
 Event and Public Relations Manager: Ten years experience with similar functions in structured high-fashioned companies, availability to travel, fluent commercial knowledge of English, Japanese and Arabic languages required.