Mattarella: "Too many errors" in Borsellino inquiry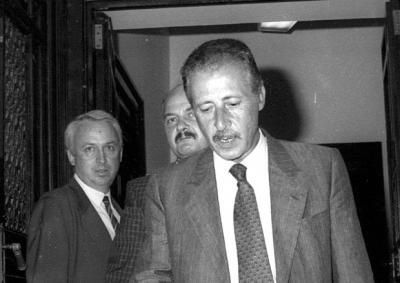 ROME- President Sergio Mattarella, criticised the investigation into the Via D'Amelio massacre on its 25th anniversary, in which Paolo Borsellino and his police escort died. He spoke at a ceremony to commemorate the late anti-mafia magistrate at the High Council of the Judiciary (CSM) on Wednesday.
Mattarella condemned cover-ups in the police investigation which has cast uncertainty over the murder for the past 25 years.  "The tragic death of Paolo Borsellino… still awaits the final word by justice", Mattarella said at the event. "There have been too many uncertainties and errors during quest for the truth of the via D'Amelio massacre and many questions remain surrounding the path taken to ensure that the correct sentence would be served to those responsible for the atrocious crime". He commemorate the anti-mafia judge as having "fought the mafia with determination of someone who knows that the mafia isn't an inevitable evil but a criminal phenomenon that can be beaten". He explained how he didn't just put mafia bosses behind bars but "spread, especially amongst young people, the culture of lawfulness" in an attempt to prevent mafia influence.
Vice President of the CSM Giovanni Legnini said at the event chaired by the Head of State thanked the family members of the victims of the massacre who were present, including Borsellino's daughter Laura. He told the families of the CSM's understanding of the "need to shed light on the bloody event, to the very end and without fearing time constraints".
The Senate held a minute's silence in memory of the Via D'Amelio car bombing and President Grasso remembered the "barbaric assassination" of judge Borsellino and the five members of his escort.  Grasso dedicated a Facebook post to his friend: "The thing I remember about Paolo Borsellino is his smile. Bubbly, friendly, always ready to make a joke". He said: "He had an exceptional professional talent, an instinctive passion and an unequaled ability to overcome difficulties and disappointments. He always knew how to give sound advice to his younger colleagues: he gave me a plethora of invaluable advice when I started to study "maxiprocesso" (mass-trials)".  
On the morning of Via D'Amelio car-bombing's anniversary, police have arrested 34 members of the Brancaccio clan, a Mafia family from Palermo, and seized companies worth a total of 60 million euros in anti-mafia raids accross the country, according to Palermo police force. The arrests were carried out in Sicily, Tuscany, Lazio, Puglia, Emilia Romagna and Liguria on the order of the Judge for Preliminary Investigations of Palermo. 
zt