African giant Aspen donates 25,000 euros to Banco Alimentare
Aspen gives money to Banco Alimentare
ROME - South African pharmaceutical giant Aspen officially contributed 25,000 euros to the Banco Alimentare Foundation, Italy's food bank organisation, founded in 1989. The announcement was made on Tuesday at the South African Ambassador to Italy's residence in Rome. Ambassador Nomatemba Tambo was hosting the Nelson Mandela International Day event, with this year's theme being "Social and Economic Disparities." 
 Marco Lucchini, General Secretary of Banco Alimentare, received the donation on behalf of the organisation. He stressed that for the benefactors, receiving food was not just a "fuel for survival, but also a time to stop and enjoy the company of loved ones." It helps people feel normal. Banco Alimentare reached 1.585.373 people in 2016, in its mission to "prevent food waste and increase the recovery of surplus food through an integrated approach.", with 1878 volunteers. However, this is not enough when one looks at the sheer size of the problem in Italy. 
 The work of Banco Alimentare is more important than ever. Director of ISTAT (Italian National Institute of Statistics) Federico Polidoro was present at the event and presented the latest figures for his country which "suffers from inequality"; the distribution of income in Italy is more unequal than the average EU state, according to the EU-Silc survey of 2014. There were alarming statistics surrounding national "absolute poverty", defined as the inability to afford "essential" family expenses, with 6.3 percent of the Italian population living in absolute poverty in 2016 as opposed to 3.6 percent in 2004. Polidoro described this as statistical proof of the post-crisis "impoverishment" of Italy, translating the 2016 figure to 4.7 million people, 1.37 million of whom were children. Larger families were hit the hardest, with 17.2 percent of families with five members or more in absolute poverty. Moreover, Polidoro explained how in 2015, 17.4 percent of the population couldn't even afford to heat their homes. 
 Whilst many who are in poverty have a job and house, homelessness still remains a big problem; 50,000 homeless people were recorded as using soup kitchens across the country in Nov/Dec 2014. 
 Ambassador Ms Nomatemba Tambo, daughter of politician and friend to Mandela Oliver Tambo, opened the event by talking about the social factors of poverty, as well as the economic ones. Nelson Mandela's efforts to support the impoverished and most vulnerable in society was celebrated over the course of the discussion. Stefano Vella, Pharmaceutical Director at the Institute of Health (Istituto Superiore di Sanità) spoke about his time as President of the International Aids Society, when Nelson Mandela attended the first international AIDS conference in Africa and spoke about the "universal right to health". 
 Stavros Nicolaou of Aspen celebrated Mandela's undocumented role in the fight against the AIDS epidemic in South Africa. Nicolaou explained the previous difficulty and expense of providing medicine to HIV patients; the three antiretroviral drugs used to cost 5,000 dollars per patient per year due to strict patent laws. With the goal to make these medicines more accessible, Aspen visited one of the drug companies in Paris to ask them to relax their patent laws. They presented a video which Mandela had asked them to sponsor about his local clinic in the Eastern Cape where 85 percent of patients were HIV infected. The video "struck a chord" and the company granted Aspen the use of their antiretroviral drug without the threat of a lawsuit. Aspen produced the first antiretroviral drug on the African continent thus and, after speaking to the other two companies, allowed them to reduce the cost of the antiretroviral therapy to 180 dollars per patient, consequently saving thousands of lives. Nicolaou expressed his gratitude to Mandela for his involvement, as well as his greater role championing "equality, human rights, tolerance, dignity and respect for the poor and vulnerable in society".
 There were also some Democratic Party politicians at the event including Federico Gelli, the Chair of the Parliamentary Commission, Vito de Filippo, Undersecretary for Education and Franca Biondelli, Undersecretary of State for Social Affairs. All three politicians stressed the importance of social equality in Italy. Biondelli explained the work the government is doing, pointing out that "financing is not enough" - new laws and social infrastructures are required. She conceded that "it may seem like not a lot but we are battling it" before stating "I'm a dreamer, I want to actually change something." De Filippo focused on the North/South divide in Italy, an age-old problem. Despite admitting that it was a slow process, he did however state that "there has never been as much money going into education in Southern Italy as in the last three years", and said "a united country is a stronger country." Gelli, for his part, echoed this, using the recent vaccination law as an example. Reforms have allowed each region to be different, and "we need to rethink the system." He also touched on immigration, saying that it was a shame that it was always talked about negatively, and referred to the 4 million immigrants who contribute to Italy's GDP.
 The event ended with a stunning performance by Thandy Ndlazi, a South African singer, who delighted the crowd with her extraordinary range and soulful voice.  
Additional reporting by Zoë Tidman.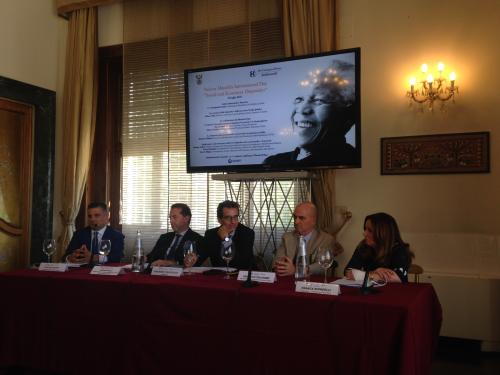 Vito de Filippo, Federico Gelli, Cristiano Fantauzzi, Federico Polidoro, and Franca Biondelli
Thandy Ndlazi and her band