Atac driver investigated after dragging woman on metro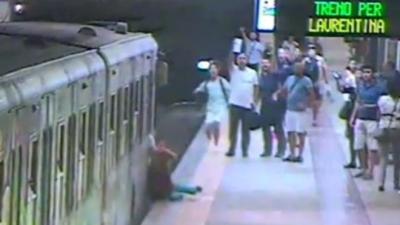 ROME - Investigations into a metro driver who unintentionally dragged a woman trapped between the metro doors for one stop have begun, after the surveillance videos were released. They show the driver in the cockpit bending down several times, probably to eat, and then leaving without realising he was dragging the woman with him. The 43-year-old Belarusian was taken to hospital for fractures but has no life-threatening injuries.
Rome's public prosecutor is investigating the injuries, after having acquired footage of the incident, which happened on Wednesday, in addition to police information, of the Atac employee. The videos show him bringing his hand to his mouth in what looks like him eating, before looking at the rearview mirror twice, closing the doors, and starting, not noticing the woman trapped in the doors. Footage also shows the woman, last to enter a busy carriage, deciding to get off the train - which starts before she gets onto the platform, with her hand still in the carriage. Passengers on the platform try to help and alert the driver, but the train started with the woman desperately shaking her arm and bending her knees as the train drags her along. 
Those inside the carriage tried to intervene by triggering the emergency brake to no avail. It is later revealed that in these types of carriages, the alarm does not stop the train. The levers do not open the doors. Final attempts to help the woman succeed, by wedging open the door, allowing her to free herself and fall from the wagon. The driver only realised what had happened when he arrived at the next station, Cavour, where the line became interrupted. 
Protocol indicates that the train should never start if the doors do not close properly. Atac have set up a Commission of Inquiry into what happened at Termini's line B station and say that they are taking the necessary steps and collaborating with investigators. "The company, at its highest level, has begun to examine all the material available to understand how this terrible tragedy happened. Films, materials and installations were examined and a Commission of Enquiry has been set up, which is assessing, along with the Ministry of Infrastructure and Transport, all the elements for the correct reconstruction of the facts and the responsibilities of those involved."