Italian cuisine in running to become UNESCO world heritage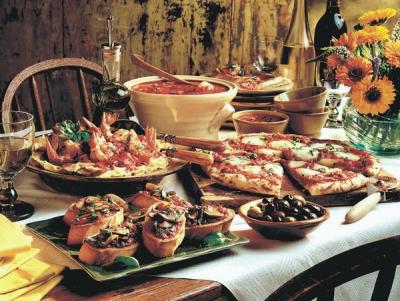 ROME - Italy is known for its wonderful sites and monuments recognised by UNESCO, visited by millions in search of art and beauty of every kind. But something else, a way of life, which hasn't been considered yet by UNESCO, is Italian cuisine. 
 UNESCO is most famous for its world heritage sites, boasting 1073 worldwide, but Italian cuisine would fall under the less well-known list of "Intangible Cultural Heritage". Established in 2008, it includes tibetan opera, the Dominican Republic's traditional Cocomo dance, and, Italy's main competitor, French gastronomy, added to the list in 2010 after much lobbying from ex-President Nicolas Sarkozy and his gang. Italy currently enjoys five UNESCO Intangible Cultural Heritages, including Sardinian Pastoral Songs, but surely Italian cuisine, what we are so renowned for, could be the sixth?
 The bold proposal to UNESCO has been made by our group of Italian chefs known as ITChefs, founded several years ago by Rosario Scarpato and Mario Caramella. Scarpato is a food, wine and travel writer who previously worked for Italian culinary magazine Gambero Rosso, while Caramella is a chef who left his mark in Asia and pledged to continue the true roots of Italian cuisine around the world in a series of events like IDIC (International Day of Italian cuisine) and other summits. 
 The proposal was made at the sixth edition of "Italian Cuisine in the World Forum", 18-22 June, which we had organised, in the presence of 70 Italian chefs from all over of the world, and several institutional figures and Unesco members.
 The food and wine festival included events in the Casentino Valley, near Arezzo, Tuscany, where the Arno river flows towards Florence, and continued in the Marche region. Chefs, local producers of wine, and the  enogastronomic excellence of Italy all united with one goal: to keep Italian cuisine great though the promotion of high quality Italian products, and encouraging their internationalisation. The creation of an international committee is vital in order to monitor Italian cuisine in the world and to strengthen the bid to UNESCO.
 Italian cuisine is often misrepresented abroad by many non-national products and restaurants, despite the Italian government's attempts to maintain quality abroad with Ospitalità Italiana , a stamp created in 1997 to separate genuine "Made in Italy" restaurants from"Italian-sounding" imitations.
 We firmly believe in the quality of Italian cuisine, not only for its taste but also for health and sociological implications. A recent Bloomberg study has shown that Italians are the healthiest in the world. And eating is not all that counts; the Italian table culture provides a place for people to socialise, a human exchange of ideas and healthy confrontation of daily life and more at the dinner table. 
 This jovial atmosphere is a way to have a less hectic and more calm approach to life, and this is why we think the culture of Italian cuisine "is a way to keep the world safer and more open." In an era of people addicted to mobile phones and social media, the promotion of so-called traditional values when eating is valued.
 The proposed bid is expected to help Italian enogastronomy. Many Italian businesses in the food and wine industry face stiff competition from big international food companies, whose goal is profit rather than well-being. UNESCO has not yet responded.