Italy second at Women's Softball Championships
Players from Italy and the Netherlands shake hands ahead of their clash. Photo: Greg Valancic Photography
BOLLATE- Teams from 23 European nations gathered in Lombardy for the 20th Women's Softball European Championship.
 Over the tournament's history Italy has earned 10 gold, 8 silver and 1 bronze for a total of 19 medals. Through 20 tournaments, they have finished lower than 3rd just once, back in 1999.
 Currently ranked 12th in the world by the World Softball and Baseball Confederation (WBSC), Italy finished this year's tournament in second place. They lost the title to The Netherlands (#9). Between the two teams, no other team has ever won the Women's Softball European Championship in the history of the tournament.
 2,000 fans were in attendance for the championship matchup between The Netherlands and Italy with another 20,000 viewers watching from home. Italy left this year's tournament with a record of 9-2, having lost both their matchups with The Netherlands.
 Statistically speaking, Italy's batters did not have a standout tournament. They finished 5th in batting with a team average of .322 and only one of their batters, Laura Vigna, who hit .529 over 34 plate appearances, managed to land in the top 15 for the tournament despite tying for most hits with 18.
 On the mound however, the Italian bullpen teamed up for a tournament .80 ERA with 10 wins and 2 losses plus a save over 70 innings where they struck out 73. That put them second in the tournament only to The Netherlands whose team ERA was .34. It was Greta Cecchetti, who pitched in 7 games, that came away tops for Italy. She had a .89 ERA for the tournament with a 4-2-1 record. Over 31.1 innings she gave up just 4 earned runs while striking out 47.
 On the field Italy ranked 3rd behind the Czech Republic and Great Britain with a team fielding percentage of .961. Bollate's home field is a softball-only facility. They held continuous games on three fields over the week-long tournament.
 This season's event had nearly a full day of games cancelled due to regularly arriving thunderstorms and the semi-finals were put on hold for almost an hour due to a rolling blackout. Teams still managed to play an average of 10 games/each not counting championship playoffs.
 Though baseball and softball have both been played in Italy for recreational purposes since the late 1800s, because of Mussolini's ban on the sports during the 1930s, it was not until well after WWII that these games became competitive sports. The first softball competition took place in Italy in 1969 while baseball has been competitive since 1948.
 The current WBSC president, Riccardo Fraccari, is also the former president of FIBS, the Federazione Italiana Baseball Softball.
Article courtesy of the European Baseball & Softball Magazine (http://www.baseballebm.com/)
The Italy team proudly singing the national anthem. Photo: Greg Valancic Photography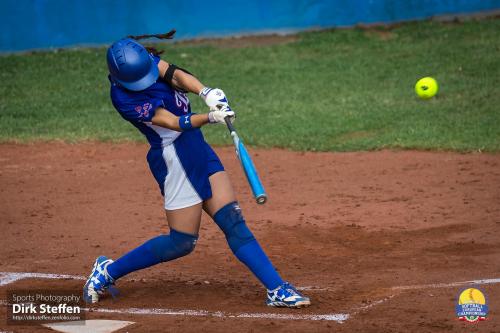 An Italian batter in full flow. Photo: Dirk Steffen Sports Photography