Matteo Salvini "ready to rewrite the EU tomorrow"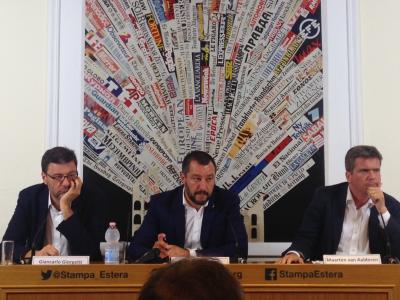 ROME- The leader of Italy's populist, right-wing party Lega Nord, Matteo Salvini, spoke of his wishes for a reformed European "community" and his "esteem" for Marine Le Pen and Donald Trump at the Stampa Estera on Tuesday. Other topics he addressed included former Prime Minister Matteo Renzi's "failures", the Catholic vote and, unsurprisingly, immigration.
With regards to the EU, the Lega Nord leader believes the organisation should do "few things but well". He painted the EU as a failing structure but was clear on the fact that Italy leaving the EU is not the solution it needs. A departure from the single currency and greater control over borders are main priorities for the Lega Nord and ones to be solved within the EU, which he preferred to described as a "community" rather than a "union". He called the Euro an idea which "started badly, ended worse" and compared it to "a house on fire whose emergency exit we should be searching for". He said he would be "ready tomorrow to sit down and re-write EU bit by bit" if others would join him.
Salvini was characteristically vocal in his criticism of former Prime Minister and "comedian" Renzi. He said: "I am ready to govern with anybody, except Renzi". He called him hypocritical for his current position of immigration. He made references to comments made in Renzi's book Avanti that have emerged over the past few days which tell of his scepticism over Italy's capability to continue welcoming migrants as it does now. Salvini reminded the press that Renzi voted for the policies that he is now critical of and confirmed his anti-immigration stance by stating the need to block ports and "the economic harm of the crazy choice" to welcome migrants indiscriminately.
When asked about Marine Le Pen's defeat in France and its consequences in Italy, Salvini was positive that the French election was not a signal of the end to the political right in Europe. To the contrary, he embraced it as a "lesson" that will work to his party's advantage following disillusionment with Macron. He expressed his respect for the National Front leader and personally called her to congratulate her on receiving 11 million votes. He was heavily critical of Macron and mocked his title as "Europe's protector". He also expressed his esteem for the US President and celebrated the government's introduction of a 15% flat tax for American businesses for showing the world that "it can be done".
One journalist asked why the Lega Nord deserves the Catholic vote, to which Salvini responded that his right-wing party respects traditional family values. He heralded the views of monsignor Biffi, the late archbishop of Bologna. The latter once said that he believed "Europe will either become Catholic or Muslim", a view which mirrored that of Salvini's when he expressed his fear of Europe being ruled by local Muslim tribunals, as he believes is the case in the U.K. Salvini reminded the audience of Biffi's call for Christianity's "welcoming culture" to be accepted with "realism". "To be welcoming is a duty to be carried out within the realms of possibility" clearly echoed the monsignor's stance. Moreover, greater control over Europe's borders rather than the borders within Europe is the Lega Nord's priority.
The former journalist was jubilant at Lega Nord's success in the latest polls, with Monday's results showing them to be the third largest party in Italy. However, he shied away from answering questions on potential political alliances. When asked whether he would consider being Berlusconi's Prime Minister, he deflected the suggestion, replying that there is a new rumoured candidate every day. Concerning an alliance with Italy's smaller anti-establishment party, the Five Star Movement, the Vice Secretary of the Lega Nord Giancarlo Giorgetti replied: "you can never say never in politics but not at the moment".  
An national election is due by May 20, 2018 in Italy. 
zt