'Suspicious' lull in migrant flow from Libya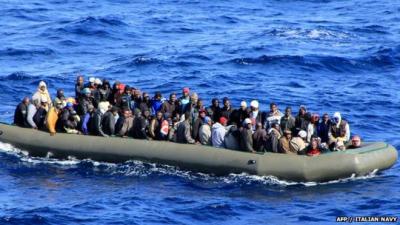 ROME- For a week, there have been no reported arrivals of boats carrying migrants from Libya to Italy. This surprising and dramatic decrease in disembarkations, which have been at a record high in recent months, have provoked fears that this is a deliberate move carried out by the organisations in Libya that regulate the traffic of such boats, according to sources at RAI news.
It is believed that these organisations may be holding back migrants on the Libyan coast in order to threaten Italy with a surprise mass disembarkation. This move is rumoured to be a reaction to Italy's increasingly tough stance on migration and the hard-line Italy are expected to take at Tuesday's summit in Warsaw on the issue, revolving around amendments to the Triton operation which would see a decline in Italy's involvement in migrant rescue missions and arrivals.
The Minister of the Interior, Minniti, will call for a renegotiation of the Triton operation and has threatened Italy's removal from the agreement failing this. The requested changes would mean that foreign NGO boats would continue to be able to arrive at Italy's ports but asylum seekers, after the normal rescue procedures, would be flown to the country where the boat originates from.
The Triton operation was launched in 2014 by Frontex, the European Union's border security agency. This operation made provisions for Italy to lead rescue operations for migrant boats and to perform the registration of arriving migrants with Frontex's support. The latter is funded by voluntary contributions from 26 EU countries and deploys equipment and border guards to work alongside the Italian Coast Guard and authorities. Currently, Frontex supports Italy with 350 officers, 11 vessels and five aircrafts, although Italy has frequently made requests for extra funds from other EU member states which have been denied.
Under Trident's operative, an offshore patrol vessel will be sent to Libya in two days by the Guardia di Finanzia (an Italian law enforcement agency managed by the Minister of Economy and Finance and part of the Italian armed forces).  It will aim to monitor the issue of the suspected block of disembarkations from Libya's shore and wants to closely monitor the work done by NGO's as well. The latter measure aims to prevent Italy from becoming a "private humanitarian corridor", according to Nicola Latorre, Defence Commission of the Senate.
Over the last six months, 85,000 migrants have been recorded to have arrived in Italy, according to officials reported by RAI news. 
zt