Woman murdered in road rage incident in Val Susa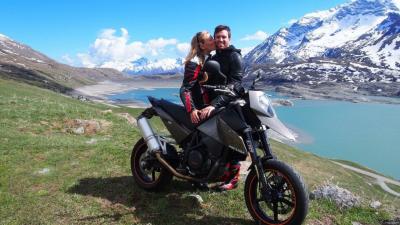 TURIN- A woman has died and a man remains in critical condition after a van drove into their motorbike in an act of road rage in Val Susa, according to local police.
A statement released by local Carabinieri said that an argument between a van driver and a motorcyclist broke out over an issue relating to driving conduct, potentially due to a right of way not being respected. The motorcyclist is believed to have punched the van's window whilst driving away. After this, the van driver turned violent and drove his black van into the young couple on their motorbike a few kilometres later when the motorbike started slowing down for a roundabout.
The police were called to an incident at the roundabout in Contove, Val Susa, situated in the Province of Turin. When they arrived, a motorbike was found to be wedged into a guardrail around the central roundabout with a van on top of it. The incident occured at the entrance to the road leading to the small town of Val Susa.  On arrival, the police were said to have realised that there was something suspicious about the accident, which was confirmed by witness reports.
The woman who died has been named as 27-year-old student Moncalieri Elisa Ferrero. The driver of the motorbike was boyfriend Matteo Penna, a 29-year-old computer programmer. He sustained serious injuries and has undergone a leg amputation. He remains in a serious condition in the hospital in Turin where he was helicoptered to following the crash.
Maurizio De Giulio has been named as the van driver responsible. The 50-year-old man from Turin has been arrested for vehicular homicide and tests showed that he was under the influence of alcohol, being twice over the legal limit. His wife and daughter are believed to have been in the van with him at the time. He is reported to have tried to flee the scene, only to be stopped by his wife and others present. He then shouted "I did it, I will pay for it".  He was previously arrested seven years ago for another drink driving related accident where he jumped a red light, from which there was miraculously no injuries reported. 
zt