Joaquin Navarro-Valls, first papal spokesman, dies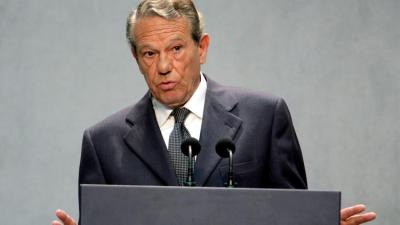 ROME -- Joaquin Navarro-Valls, who has died age 80, was an elegant Spanish journalist and personal spin doctor of Saint Pope John Paul II, the first person to hold the position of papal spokesman in the Vatican. A member of the conservative Opus Dei movement, he performed his role with what admirers described as characteristic discretion and style and had a famously close relationship with the Polish pope though he also could be harsh with journalists who criticised the papacy and embroidery of the official narrative was not unknown.
 A medical doctor by training who also had been a bullfighter, the chain-smoking scribe who died on Wednesday, was unexpectedly called up to direct the Vatican Press Office in 1984 and held the role until 2006, two years after the Polish pope died. John Paul had never met Navarro-Valls prior to inviting him to a private dinner at the Palazzo Apostolico and offering him the role to lead the Vatican's communications. Despite being stunned at the unanticipated request, Navarro-Valls accepted. From this moment on, the newly-appointed spokesman and the pope formed an unshakeable bond that would last until the pontiff's death.
 During his time at the Vatican Press Office, he took on the challenge of rectifying various public scandals. Controversies for which Navarro-Valls oversaw communications include African exorcist Monsignor Emmanuel Milingo's resignation from his role as Bishop to marry Korean acolyte Maria Sung, the photograph of John Paul sharing a balcony with the Chilean dictator Augusto Pinochet which provoked a fiery backlash and protests, and the paedophilia scandal surrounding Boston clergy which led Wojtyla to remove archbishop Bernard Francis Law from his position as Archbishop of Boston.
 In these times of 'crisis', however, John Paul's spokesman largely managed to keep a firm hand on the tiller and protect the pope and the Vatican's reputation effectively and gracefully. Known for his coolness and restrain, he famously walked out of a press conference on the verge of tears when asked how he personally felt about John Paul's declining health in 2005.
Navarro-Valls was born in Cartagena in Southern Spain in 1936. Before embarking upon a career in the media, he studied at various universities including Barcelona and Harvard and graduated in medicine, communication science, journalism and gained a doctorate in psychiatry
 He was a correspondent for various newspapers before becoming President of the Foreign Press Association in Italy. He has been described as a talented linguist, a sport-lover, incredibly charismatic and inexorable. 
He was not married and lived in an Opus Dei residence in Rome. He died aged 80 after a long battle with pancreatic cancer. 
Born: November 16, 1936. Died: July 5, 2017
 jp-zt