People: New era at British School, Mawer novel attracts glory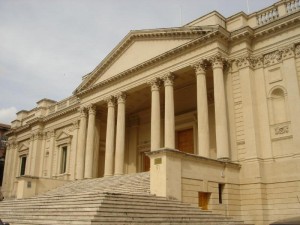 The British School nestling in Rome
Italy-based British author Simon Mawer's acclaimed novel about pre-war Czechoslovakia "The Glass Room" is on the shortlist for the brand-new £25,000 Walter Scott Prize for Historical Fiction. The winner will be announced June 19 at the Borders Book Festival in Melrose. The shortlist includes two other works which together with Mawer's masterly opus, were also on the Man Booker Prize shortlist – Wolf Hall and Adam Fould'sQuickening Maze.
 – A vice-principal at the University of St Andrews has been appointed the new director of the British School at Rome, a research centre that investigates the archaeology, history and culture of Italy. Christopher Smith, who is also a proctor and provost of St Leonard's College, St Andrews, and dean of graduate studies at the institution, took up the post in October after Andrew Wallace-Hadrill, moved to Sidney Sussex College, Cambridge to be Master. Professor Smith's research interests include the social and economic development of early Rome and Latium. He is also the editor of a major project on the fragmentary Roman historians, and he has published books about writers including Plutarch, Pliny the Elder and Aulus Gellius.
Prof. Wallace-Hadrill's background as an alumnus of St. John's College, Oxford, evidently was no barrier to taking over the helm at Sidney Sussex even though the Cambridge college is renowned for its Puritan historical traditions while St. John's boasts the most Catholic martyrs of any Oxford College.
Andrew is not the first prominent leading figure of the British community in Rome to move on to high office in Oxbridge. One of Britain's leading Roman Catholics, the popular former British Ambassador to Italy, Sir Ivor Roberts, is now installed as Master of Oxford's Trinity College, a stone's throw from St. John's.
After his long sojourn in the gilded cage of the British School, many observers thought Andrew might take up a career in the media once home in Britain rather than remaining in academia. Known as "professore dial a quote" at the teeming foreign press club in Rome's Humility Street media row for his willingness to oblige correspondents with his erudite views on archeological matters, he once inspired a future foreign editor of the Times of London to remark "that bloke ought to be put on the payroll."
In another Rome-Oxbridge connection, both Chris Smith and Sir Ivor are alumni of Oxford's Keble college.  
-The Italian President, Giorgio Napolitano, recently received five new ambassadors presenting their credentials to the head of state at the Quirinal Palace. The new Chinese Ambassador is Ding Wei, Greece's new man on the Tiber is Michael Cambanis, while Evelyn Anita Stokes-Hayford represents Ghana and Hassan Ayouboubh is the new Moroccan Ambassador. Sierra Leone's new Ambassador is Jongopie Siaka Stevens. The solemn ceremonies were attended by Alfredo Mantica, the Foreign Ministry Under Secretary.