Pope Francis' reforms under threat, criticism from within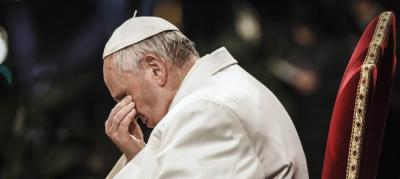 VATICAN CITY - Pope Francis has had to contend with many naysayers recently, including the Roman Curia. Critics have slated his "progressive approach", and go as far as to say he is pursuing an unbalanced social agenda in favour of the poor, modernity, and immigrants. This may not sound like criticism, but it was paired with a desire for him to show a "non-antagonistic" stance, according to Italian daily Il Corriere della Sera. 
 The pontiff has faced several obstacles recently, with several names leaving the Vatican in just two weeks. The Auditor General of accounts, Libero Milone, resigned last month, just two years into what was supposed to be a five-year term. Next, his mentor  Cardinal George Pell, was forced to leave the Vatican's "Ministry of Economy" to go to Australia to defend himself against claims sexual abuse. Finally, the Guardian of Orthodoxy, Gerhard Ludwig Müller, did not renew his role after his five years in office.
 Following Milane's mysterious resignation, speculation is rife. John L. Allen Jr. of Catholic media outlet Crux raises the question of whether "reform is even possible - that is, whether the Vatican, as we currently know it, is essentially irreformable." 
 During an interview with the Corriere back in February, Francis said: "In the General Congregations, it was all about the Vatican's problems, it was about reform. Everyone wanted it. There is corruption in the Vatican. But I'm at peace. If there is a problem, I write a note to St. Joseph and put it under a statue I have in my room. It is the statue of St. Joseph sleeping. And he's sleeping under a mattress of notes!"
 It is not clear how successful the pope's "mattress method" has been when it comes to reforms, as Allen Jr continues: "the most common verdict one hears in Rome is that so far, it's been una riforma gattopardesca - a reference to an Italian novel whose most famous line is "Everything must change, so that everything can remain the same.""
vk