Son of former motorbike champ Luchinelli killed in collision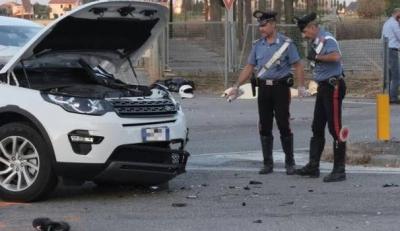 The site of the crash. Photo: Il rest del Carlino
BOLOGNA-  Cristiano Lucchinelli, 36, son of former motorbike champion Marco, has died after he collided with an oncoming vehicle while he was riding his motorbike around Poggio Piccolo di Castel Guelfo.
 The exact details of the incident, which took place late Tuesday evening, are still being verified, but local police sources believe that Lucchinelli was thrown from his saddle after a collision with an oncoming Range Rover, before smashing against fencing surrounding a factory in the area.
 Despite the arrival of immediate medical treatment, in the form of ambulances and even a helicopter, there was nothing that could be done to help Lucchinelli.
 The 36-year old lived with his mother, his sister and his father Marco, who became a motorbike world champion back in 1981 when he lifted the title in the 500cc class. Together with his father, Cristiano had set up the "Lucchinelli Experience" company, which was dedicated to organising track and street races for both professional and amateur motorbike riders.
 Marco is also a television commentator for the Sky Italy coverage of motorbike events.
 jj