Austria deploys armour on Brenner frontier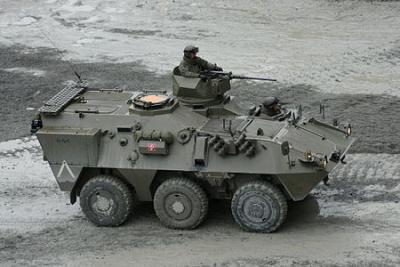 An Austrian army pandur APC vehicle
BRENNER - Austria deployed Tuesday four armoured APC vehicles on the Brenner border between Italy and Austria to underline its opposition to Italian authorities allowing migrants to entering Austrian territory, defence sources say. Austrian Defence Minister Hans Peter Doskozil announced that "border controls will be activated soon and there will be an army deployment of up to 750 people" on the border as tension escalated. Doskozil claimed that this was "indispensable if the influx of migrants from Italy does not diminish."
The four Pandur models which are already on site may be used in immigration control operations. The Austria Press Agency wrote that the measures, which include 450 soldiers from the Tyrol region, and the rest from Carinthia, could be activated within three days. 
Austrian Foreign Minister Kurz echoes the Defence Minister's statement: "Preparations for border controls with Italy are not only just but necessary. In statements made by the Austrian agency APA, this is a clear message to Brussels and Rome that no one can accuse Austria: "We have welcomed more people than the other European states have done." According to Kurz, the European Union must clarify that a rescue from the Mediterranean Sea does not equal a ticket for Europe and refugees must be rejected or stopped at external borders and taken to islands like Lampedusa, the Italian island between Malta and Tunisia.
The Ministry of Foreign Affairs in Rome released a statement saying: "Following the Austrian government's statements about the deployment of troops to Brenner, the Secretary General of the Ministry of Foreign Affairs and International Cooperation, Ambassador Elisabetta Belloni, summoned the Austrian Ambassador, René Pollitzer, to the Italian Ministry of Foreign Affairs."
Tension between European countries on the issue of migrants is rising, with the governments of France and Spain opposed to the idea of ​​allowing the disembarkation of people in the central Mediterranean in their ports and Austria taking a harsher stance on the issue at their borders.
 jp-vk