Promoted prelate 'covered up' for Italian paedophile priest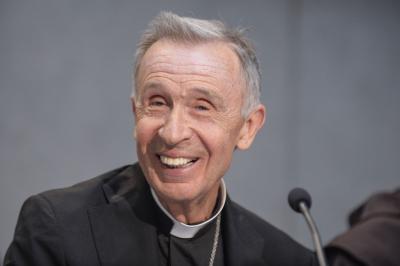 ROME- Spanish archbishop, Luis Ladaria SJ, who was recently appointed by Pope Francis to be the next Head of the Congregation for the Doctrine of the Faith (CDF), was involved in a cover-up operation protecting paedophile priest Gianni Trotta by failing to report his crimes to the Italian authorities, L'Espresso magazine reported Monday.
 The scandal of former Catholic priest Gianni Trotta, who was stripped of his religious status by the Vatican following acts of sexual abuse committed back in 2012, was reported by La Repubblica earlier last year, with the disgraced priest eventually being sentenced to eight years in prison for sexual harassment of minors. 
 However, the role of Archbishop Luis Ladaria in the failure to denounce Trotta's crimes to the Italian authorities, which allowed Trotta to continue to molest young children in his role as a football coach, has only recently come to light, L'Espresso said.
 L'Espresso disclosed that Ladaria, together with then prefect William Levada, were instrumental in orchestrating a hush up operation encouraging other priests not to speak out about Trotta's crimes, in order to avoid "generating a scandal amongst the faithful."
 The pair reportedly signed a mandate, which recognised that "Don Gianni Trotta is guilty of crimes with minors against the sixth commandment."
 "The Highest Pontiff, Pope Benedict XVI, has decided with a supreme and unappealable sentence that for the good of the Church it must be imposed a reduction of his clerical status," reads the mandate, before saying "done in a way as much as is possible, that the new condition of this dismissed priest does not give way to a scandal amongst the faithful."
 Following Trotta's dismissal from the Catholic Church, he became a football coach, before a number of children he had sexually abused from 2012 to 2014 came forward to the Italian authorities to testify about their treatment.
 As a result, Trotta was convicted and sentenced to eight years in prison in 2016, but many have criticised the stance taken by the Vatican, pointing out that had Trotta's crimes been reported to the Italian authorities then the more recent offences could have been avoided.
 The alleged link between Ladaria and Trotta is the latest thorn in Pope Francis' side, following the recent departure of Cardinal George Pell, who stepped down on the back of charges of sex abuse he faces in Australia. Pell strongly denies the charges.
jp-jj