WFP all-staff meeting convened for 'pep talk'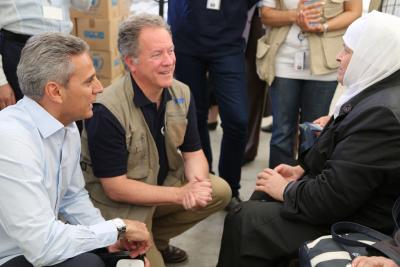 Executive Director of the World Food Programme (WFP), David Beasley (centre) and Regional Director Muhannad Hadi (left) speaking to Nagwan, a 73-year-old woman displaced from her home in Syria. Photo: WFP/Abeer Etefa
ROME — World Food Programme Executive Director David Beasley has called an all staff meeting of the UN agency at headquarters Tuesday in an evident effort to bolster flagging morale over what has been described as a 'dismal ' response to the UN's appeal for funds to fight hunger crises in South Sudan, Somalia, Nigeria and Yemen. 
 The United Nations Secretary General António Guterres at the beginning of 2017 said the UN needed billions of dollars for humanitarian aid or as many as 20 million people might starve to death.
 According to the Washington Post "Five months later, the results of that appeal are dismal. The United Nations has raised about a third of its goal, and there's little reason to believe that much more is coming."
 "The funding is for four countries facing massive hunger crises: South Sudan, Somalia, Nigeria and Yemen. Of the  dlrs 6.1 billion requested for those countries, only dlrs 2.2 billion, or 36 percent, has been pledged."
 Raising funds from donors for the crises has been a baptism of fire for Mr Beasley since he was appointed by the Trump administration to replace Ertharin Cousin. His experience in running the state of South Carolina as Governor responsible for millions of lives evidently has stood him in good stead and he appears to be enjoying the challenge as well as showing considerable empathy with ordinary people suffering in the field. 
 The Washington Post reported one problem is that many Western donors believe Nigeria could spend more of its own resources to combat the crisis and are loathe to donate more to a country perceived as permeated by corruption at the highest echelons.
  WFP's sister agency FAO evidently was not concerned about that since FAO Director General has hired former IFAD president Kanayo Nwanze, a Nigerian hungercrat who survived a major expenses scandal, as an advisor to FAO on Africa after his recent retirement from his turbulent period at IFAD, UN watchers say.
jp