Driver perishes in rally race smash-up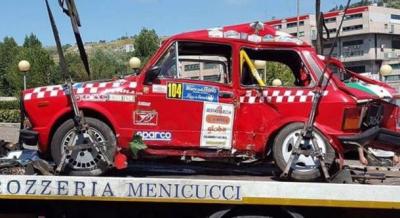 The smashed-up car of Alessandro Pepe. Photo: Rally.it
SAN MARINO- Forty-three year-old Alessandro Pepe has died after crashing into a wall while he was driving his A112 Abarth rally car in the 'Rose'n Bowl' race in the sovereign state, Sunday morning.
 The race was part of the San Marino rally championship and the deceased was competing in the historic cars category.
 According to the initial reconstructions carried out by local police at the scene, Pepe lost control of the vehicle when the car went over a bump in the road at high speed.
 Consequently, the car veered off course before crashing into the wall of a residential building surrounding the racetrack.
 As a result of the incident the race was suspended until further notice.
 The San Marino rally team released a statement on their website explaining what happened following the crash.
 "All departures were suspended and the first response team swiftly attended the scene.  The first response team managed to unlock the car door, carrying out medical help with use of their equipment. The driver, Alessandro Pepe, did not suffer any type of trauma. All attention was focused on the driver, whose condition suddenly appeared to be very serious and he was rapidly transported to the accident and emergency ward of San Marino hospital," said the team's statement.
 "Unfortunately his condition became considerably  aggravated and the doctors declared him dead at 11:55. The event was immediately stopped. The competitors, together with  San Marino Rally Team, have been deeply hit by this tragic event, and will unite with the family in this moment of pain," concluded the statement.
jj