Rome celebrates Queen's 91st birthday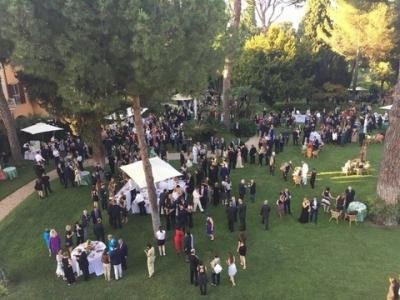 ROME - The British Embassy's celebrations in honour of Her Majesty Queen Elizabeth II's 91st birthday took place at Villa Wolkonsky, the Ambassador's residence in Rome. 
 The beautiful, sprawling garden located next to an ancient Roman aqueduct, welcomed more than 1,700 guests on Thursday evening. The theme of the British Fête was complete with a raffle, coconut shy, and other games in red and white striped tents. barbecue, rugby play. Attendees were greeted and could take pictures with traditional British characters such as Sherlock Holmes, Alice in Wonderland and Mary Poppins.
 The guest list included the mayor of Rome, Virginia Raggi, Minister of Health Beatrice Lorenzin, and National Anti-Mafia Attorney Franco Roberti. 
 In the wake of Prince Charles's visit to Amatrice, the embassy decided to dedicate a corner to promote typical local products. Restauranteurs from the earthquake-hit town presented their delicacies at the event, from pasta to Amatriciana, a dish greatly appreciated by Prince Charles.  Fundraising also took place for the Joel Nafuma Refugee Centre and Project Rome.
 Jill Morris, the British Ambassador to Italy, hosted the evening and made a speech to the crowd: "Since my arrival in Italy 11 months ago (time flies!) I have much appreciated the warmest of welcomes that I've received in Italy - not just in Rome but in Milan, Venice, Florence, Turin, Naples, Matera, Bologna, everywhere in Italy and I'm very grateful for the welcome."
 Having thanked her colleagues and friends, both Italian and international, she continued; "Personally, I would like to say that Italy and the UK have always had a privileged relationship; historical cultural and commercial links, always with a lot of respect and affection. Today, these links are stronger than ever in every sector.
 In light of the recent tragic events in the UK, the Ambassador said "I would like to express how grateful I am for the solidarity and friendship during the difficult days we have faced recently. It's been very important for us to know that you, our friends, are by our side. We are strong and we are united. But tonight is a time for celebrations; our collaborations and relationships and so thank you once again for coming and now one more invitation; a toast to her Majesty Queen Elizabeth." 
 Her speech was followed by a rendition of both God Save the Queen and Italy's national anthem, 'Il Canto degli Italiani".