Japan, Italy plan increased military cooperation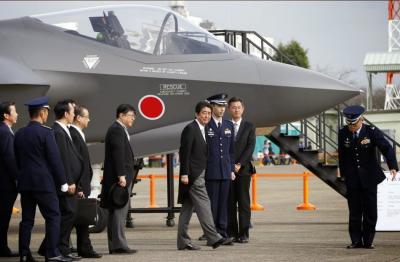 Japanese F-35 makes debut on Japan Air Self-Defense Force 60th anniversary parade
ROME — Japan is likely to increase military cooperation with Italy to acquire hi-tech defence technology in an effort to fend off escalating threats from North Korea and China, Yukio Okamato, a former special advisor to Japanese Prime Ministers Hashimoto and Koizumi, said Monday.
 With armed forces of only 230,000 people, smaller than those of Thailand, and a constitutional ban on offensive military policy, Japan has only been able to feel secure in the face of ongoing territorial disputes with its neighbors because of the massive presence of U.S. forces in Japan under the terms of the longstanding alliance between Tokyo and Washington. However since President Trump took office there has been some concern that the White House might move away from longstanding American support of Japan, speakers at a conference entitled 'Japan out of its comfort zone,' held at the Institute of International Affairs in Rome, suggested Monday.
 Japanese officials were reassured in February when the United States in an unusually strongly worded statement reaffirmed its commitment to defend Japan with "the full range of U.S. military and nuclear options," in what was a clear warning to North Korea and China, Mr Okamoto said.
 North Korea's rapidly expanding nuclear capacity is a threat not just to Japan and the United States but also potentially to Europe, he added, noting that the Pyongyang regime is headed by a man who is "insane." China could curb North Korea's nuclear ambitions by stopping the export of oil to Pyongyang but so far Chinese efforts to rein in its ally have been "half-hearted."
 The extent of Chinese ambitions, meanwhile, are unknown, amid speculation that Beijing wishes to restore the Cheng dynasty meaning it would rule all of Asia.
 Nevertheless Mr Okamoto nourishes the hope that the sixth generation Chinese Communist Party leaders, educated in the 1980s when Chinese universities enjoyed a liberal period, are likely to take over Central Committee positions in coming years, which could lead to moderation of Beijing's anti-japanese policies.
 Davide Giglio, an Italian diplomat specialising in Asia, underlined the good will and shared values between Italy and Japan, noting that Italian Defense Minister Roberta Pinotti visited Japan last month and signed bilateral accords, adding that more security cooperation between the two countries can be expected. 
 Matteo Dian, a research fellow at Bologna University, highlighted the danger that the volatile Trump administration might change policy on Japan despite solid support from the State Department and the Pentagon.
 Giulio Pugliese, lecturer in war studies at King's College, London, said that "Japan is now wary of the United States and the United States is now wary of entrapment in Japanese territorial disputes."
 Other countries such as Australia also are concerned about Chinese expansionist policies in the Pacific while large anti-Japanese demonstrations were orchestrated by authorities in Beijing in 2005, 2009 and 2012.
 Japan particularly is interested in Italian defence technology that could help it obtain anti-missile defense systems against north Korea, defense sources say.
 Italy is a maritime nation and possesses advanced technology on naval guns as well as radar for vessels and patrol aircraft. Keen to bolster its maritime capabilities, Japan is eager to find areas of collaboration.
 jp