Motorbike champion Biaggi hospitalised after racetrack fall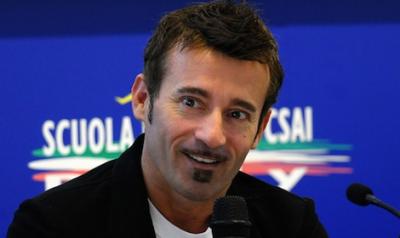 LATINA—Four time 250cc MotoGP world champion, Max Biaggi, has been hospitalised following an incident during training at the Sagittario Circuit, on the Lazio coastline, sources at the racetrack say.
 Immediately after the incident, the Italian's teammates and manager called 118 and the former champion was taken away in an air ambulance to the local San Camillo hospital, as a 'code red' case due to a thoracic trauma.
 Biaggi arrived at the accident and emergency ward just a few minutes after being air lifted off the race track.
 According to ANSA, the Italian is currently undergoing radiological and neurological inspections in order to stabilise the size of the trauma.
 Sources at the hospital have reported that the rider is conscious.
 Forty-five year old Roman resident Biaggi has won four MotoGP world titles, coming consecutively from 1994 to 1997.  He then went onto compete in the premier 500cc category where he finished runner-up to Valentino Rossi after many a legendary duel with the man known as 'The Doctor.'
 The incident took place while Biaggi was training at his usual practice track in Latina, which he normally partakes in with young MotoGP 3 riders.
 On Sunday he was due to particpate in a race in the International Superbike series, Onroad.
jj