"Adopt a Student" at Catholic University Lateranense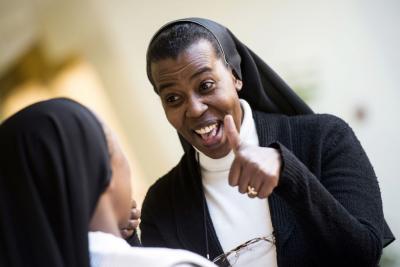 ROME - The Civitas Lateranensis Foundation, part of the Catholic Pontificia Università Lateranense in Rome, are crowdfunding in an effort to raise 80,000 euros for student scholarships. 
 Adopt a Student's mission is "to give to the less fortunate a university education to enable them to do goof in the world." In a press release from the university, it is stated that "There are many religious or lay people in the world who have great intellectual and humanitarian talents but find themselves unable to study." 
 Since 2009, there have been over 600 scholarships funded through legacies and donations that have supported ecclesiastics and laymen from all continents. The website has various donation package options, where you can select the amount you would like to contribute and see what this includes: a donation of 6000 euros, for example, will provide accommodation and living expenses for a student for a year, and will grant you updates and meetings with the adopted student, amongst other things. 
 The university supports Pope Francis' vision of "tomorrow's church", a changing Church for the people. 
 According to the foundation, those who decide to sponsor a student can contribute directly to the work of the Church, support talented people and the need to modernise local churches, and see the value and effect of their investment not only on the students participating in the course but also on their home territories.
 Giulio Carpi, Managing Director of the Civitas Lateranensis Foundation says: "The Pope has told us since the first discussions about education: distinguish yourselves with your constant vigilance in regard to the individual, who is discarded, rejected and forgotten. "Adopt a Student" is also an appeal to the community to support the development of talents, and to promote the growth of those who have no resources but extraordinary skills."
 For campaign details and more information visit http://www.civitaslateranensis.org/prodotto/adotta-uno-studente/
vk