Street food festival hits Viterbo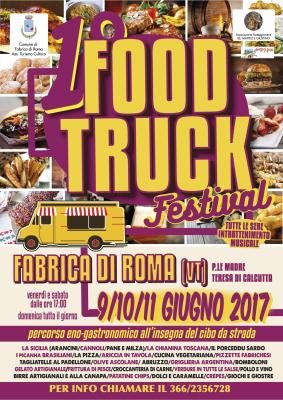 FABRICA DI ROMA—A food-truck festival specialising in Italian street food comes to the historical Tuscia region in the province of Viterbo, delighting tasters with a variety of dishes from different regions, starting Friday and finishing on Sunday.
 The festival is the result of a collaboration between the local council and the Festivities Association SS.Matteo and Giustino, which aims to provide a 'mini-tour' of Italy through local flavours and artisanal sweets pertaining to each individual region.
 The event will be set up in the historical square in the centre of the town and will be open from 5pm apart from Sunday where it is open all day.
 Visitors can sample street food delicacies, simple dishes or various menu proposals depending on the preference of the customer.
 There will be a Sicilian food truck specialising in Arancini, cannoli and 'pane e milza'- a traditional Sicilian sandwich consisting of fried beef spleen with a slice of Sicilian lemon, which is said to be tastier than it sounds.
 Elsewhere, there are food trucks dedicated to Tuscan 'chianina' beef, Sardinian 'rinomato porceddu' roasted pork, breaded olives from Abruzzo and the classic Neopolitan pizza.
jj