A.S Roma President 'satisfied' with Raggi's stadium cuts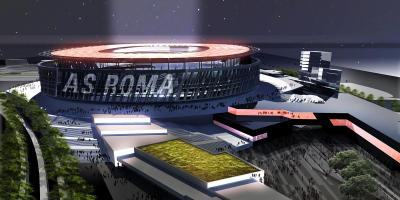 The initial new Roma stadium project
ROME—The President of A.S Roma football club, James Pallota, has declared that he is "satisfied" with the Council's downsizing of the new football stadium plan, despite proposed cuts of millions of euros to the infrastructure of the project, he said in a recent statement.
 Initially, the new stadium, which is being referred to as the 'Colosseum', was an ambitious project involving the construction of three towers, shopping centres and thousands of apartments surrounding the new stadium in the area of Tor di Valle, in the South West of the capital.
 However, following initial opposition from Rome mayor Virginia Raggi and the Five Star Movement, the project was approved for a public-interest norm Tuesday, but only after the Council implemented some changes and downsized the plans.
 The three skyscraper towers have been scrapped contributing to the princely sum of 75 million euros less in public works on the project.
 The area of land taken up by the development has also been downsized, with a 50 percent reduction in the size of the business park designed to host managerial offices and shops.
 The project will also go ahead without the building of the 'Ponte di Traino' bridge that would have connected the Roma-Fiumicino highway with Parco de Medici.
 Forty million euros rather than 45 million will be spent on public transport services to the stadium, with the addition of a couple of new train routes.
 The revised changes have upset many Roma supporters, with many frustrated at the length in time it has taken Raggi's council to come up with an updated plan, nearly a year after previous mayor Ignazio Marino's initial proposal.
 However, President of the football club, James Pallota, held a more positive view on the outcome of the talks, as the project goes to final vote at the city assembly next week.
 "We are satisfied that the addition of the Rome Council will vote in favour of the new Roma stadium project and faithful that all the Capitoline assembly will cast a favourable vote next week, that way the project can return to the Lazio Region, where I am sure it will be put into motion in quick time, so that we can start up the works as soon as possible," said Pallota's statement.
 Rome Mayor Raggi also seemed satisfied with the amended plans for the stadium, describing it as a "revolutionary project, innovative and eco-sustainable."
jj