Free Trilussa reading in stunning Roman garden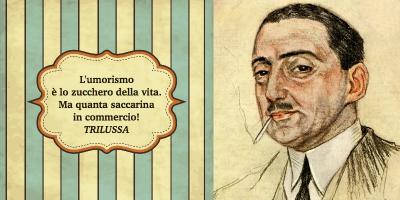 ROME - Legendary Italian poet Trilussa will have his name immortalised in an event dedicated to him on June 9 at 19:00. Trilussa ci viene a trovare, (Trilussa's coming to visit) will take place in Rome's beautiful Momà garden in the South of the city, and will pay tribute to one of the nation's best-loved Roman poets. 
 After a guided walk around the garden and a chance to take in the breathtaking panorama, the reading, accompanied by musicians, will take place.
 Arranged by Marco Tesei, the readings will be taken from Io, Trilussa - Dalla Poesia Al Café-Chantant, a book by fellow Roman theatre critic Giovanni Antonucci, which portrays Trilussa in a new light: from Antonucci's lively narration to Trilussa's funny articles. Antonucci has dedicated his life to theatre and literature, and this book is his homage to a famous poet, read and loved by thousands of readers.
 The Roman countryside will make the perfect setting for a rich insight into Trilussa running from from the belle epoque to the last years of his life, through fascism and the formation of his original political vision.
 The event is curated by Marco Tesei, Raluca Nita and Giovanni Antonucci. Luigi Tani will perform the reading, with music accompaniment by Soichi Ishikawa and Simone Gullì. 
 Momà garden: https://www.momagarden.com/ Via Appia Nuova 688, 00179 ROMA.