'Crazy for football' breaks down mental health barriers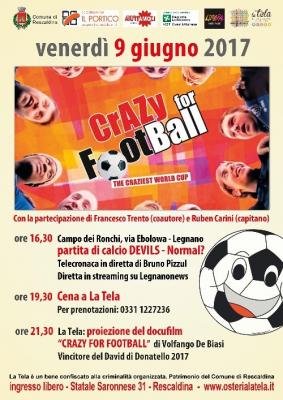 Crazy for Football promotional poster
Rescaldina— The first edition of 'Crazy for football', an event aiming to turn the sport into an opportunity to tear down the barriers surrounding mental disorders, takes place in the region of Lombardy, Friday.
 The event will consist of three main highlights: a football match commentated on by former professional player and commentating legend Bruno Pizzul; a bumper meal at the Osteria Tela and the public screening of Volfango da Biasi's documentary 'Crazy for football'.
 "The idea for the event came after a meeting with Francesco Trento, the screenwriter of the documentary-film that will be projected," said the Mayor of Rescaldina Michele Cattaneo.
 "In the meeting, it sprung forth the will to confront the issue of mental health disorders from a slightly more broad point of view, consequently expanding the proposal to other subjects and involving the Psychiatric Centre, Cps di Legnano."
 "This initiative to a certain extent anticipates the opening of apartments as social housing destined for people with mental disorders as an asset that was confiscated from organised crime and given to our Council," added Cattaneo.
 In addition to receiving support from the Council of Rescaldina, "Crazy for football" has also been backed by the Portico organisation, the Aiutiamoli onlus association and the West Milanese ASST.
 The football match will be between a team named 'The Devils', consisting of patients at a psychiatric centre and a so-called 'normal' side. The game will be streamed live on Legnanonews at 16:30, Friday.
jj