Baltics to California, the new Finnair destination
The Finnair Airbus 333 landing in San Francisco
HELSINKI-- On June 1, Finnair, the Finnish airline, opened a non-stop link from the Finnish capital, Helsinki, to San Francisco, California, facilitated by the semi polar route. 
The flight takes place three times a week, on Tuesdays, Thursdays and Saturdays, with an Airbus 333 and remains operational until Sept. 30, 2017. 
The connection offers the possibility of being used, given its good coincidences, not only from Scandinavian-based travellers, but even from those based in the Baltic countries and Russia, as well as from various Central European countries. 
The new route is the return of a previous one, as Finnair used to fly to this destination already in the period 1995-1999. 
The Golden Gate City is thus the fourth US destination for Finnair, after New York, Chicago and Miami. 
Juha Järvinen, Chief Commercial Officer of the company, stated, "We are pleased to have made another step forward in the development of our airline, especially since San Francisco is a new, exciting destination for all our customers. In the same way as Finnair routes to Asia, the northern location of our Helsinki hub provides a quick alternative for European customers flying to North America."
gn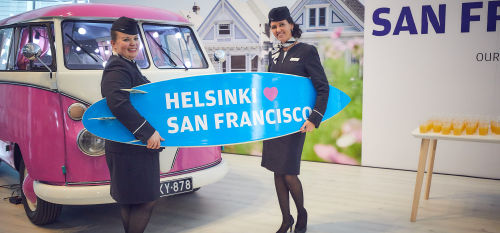 Finnair employees celebrating the launch of the new route