Football: Five key thoughts on Champions League Final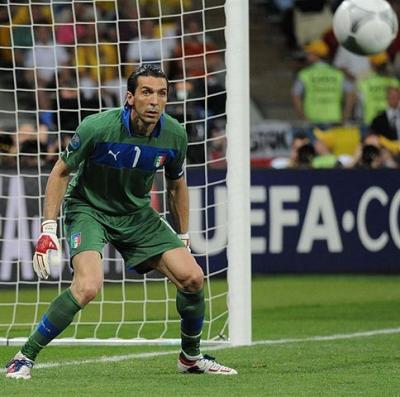 Legendary Juve keeper Gianluigi Buffon
 ROME -- As most sports fans will be aware, the Champions League final is set. Following a surprisingly lopsided set of semifinals, we now know we'll be seeing Real Madrid and Juventus in what appears to be a genuine heavyweight clash. We've still got a couple of days to go before the match takes place in Cardiff, but here are some early thoughts to keep in mind. 
Real Madrid Has The Best Player 
It's an obvious point, but one that bears repeating. A lot of the biggest football fans tend to have a tendency to belittle Cristiano Ronaldo. Messi seems to be the universal fan favorite as the world's best player, and so there's a temptation to treat Ronaldo as something less, or as "just a goal scorer." Everyone planning on watching this final would do well to remember that even if he's primarily a finisher, Ronaldo is the best in the world at what he does. He's traditionally more or less unstoppable in the Champions League, and it will be a treat to watch Juve's rock solid defense try to hold him off. 
Juventus's Home Advantage Will Be Missed 
If you've been paying much attention to European football you're undoubtedly aware that Juventus has been all but impossible to beat in Italy. In fact, one betting guide pointed out during the semis that the club has had a 100 percent win ratio at home in league play this year. Naturally, that advantage will be gone during the final, which takes place on neutral ground in Cardiff. This won't be news to most serious supporters, but it's a reminder that Juventus is going into the final with arguably its best advantage left behind. 
Health Is A Concern For Juve 
There are still a few days to go before the Champions League comes to a close, but it's worth noting that Juventus is currently dealing with some injury concerns. Heading into the Italian Cup final against Lazio, both Mario Mandzukic and Paulo Dybala were at less than top fitness. Neither appears to have a significant injury, but it will surely give Juve supporters pause to hear that such key players are potentially missing any time with the Real Madrid match looming. 
Dybala Could Be Ready To Emerge
If he's healthy, Paulo Dybala could be in the perfect position to announce himself to the world as a budding superstar. Juventus fans and those who tune into Serie A are already well aware of this status. But great world footballers are built on the biggest of stages, and this will by Dybala's first chance to make some noise on such a stage. As one preview of the final put it, he's been waiting for a huge stage to prove his world class potential. And if he, not Ronaldo, is the star of this match, it will compound the excitement of a potential Champions League triumph for Juve fans. 
Buffon Could Be Playing For History 
Take the time to consider the greatest goalkeepers in football history, and there are a few names that are always going to come to mind. Those would be Iker Casillas, Oliver Kahn, 
Gordon Banks, Peter Schmeichel, and Gianluigi Buffon. Buffon undeniably belongs in this company already, and he's done bigger things with his career than winning the Champions League. But if he manages to help win this match at age 39 against an offensive powerhouse and the best scorer in a generation, it could help to catapult him—in some people's minds, at least—to the position of greatest keeper ever.