Book review: A Literary Journey to Rome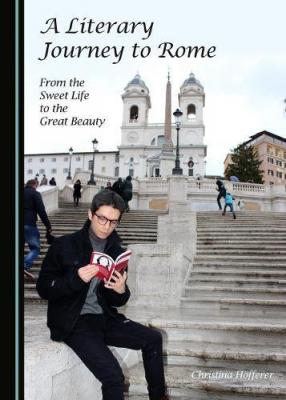 ROME-- Despite its title, A Literary Journey to Rome is not predominantly literary.  One essay concerns the Austrian poet and novelist Ingeborg Bachmann who spent decades in Italy.  Others concern the Keats-Shelley House and the novel Suburra about crime in a coke-addled Rome while a fourth is devoted to Pier Paolo Pasolini and his death at Ostia.  They share an enthusiasm for their subjects but are short on critical assessments to balance the celebration.
Another three items concern cinema: a visit to Cinecittà which details Federico Fellini's attachment to it, an interview with the director Lina Wurtmuller and a third whose starting point is Paolo Sorrentino's The Great Beauty.
Perhaps the best essays are on architecture: an informative visit to the Gino Coppedè buildings off viale Regina Margherita 'a neighbourhood full of mythical creatures and fairy-tale allusions….dreams put into architecture'.   This is matched by a piece on EUR as an embodiment of Fascist architectural ideology where she makes an imaginative leap: 'the first impression of EUR is as if you were in a bright version of the cult science fiction movie Blade Runner. EUR may be rationalistic in its architectural expression, but at the same time it has a bombastic effect." Sympathetic attention is given to the MAXXI art gallery and a female spray painter, Alice Pasquini.
In addition there is a farrago of items on places and people in Rome: gypsies, the non-Catholic cemetery by the Pyramid, means for getting around the city, the Spanish Steps, Eataly, the Ferragosto holiday, the lovers' locks at Ponte Milvio, even the Vatican Secret Archives and gathering and distributing the fruit from trees in the city.
It is a slight (only 103 pages ), well- produced book whose approach is once-over-lightly.  This is painfully evident in a discussion with Senator Corradino Mineo about the Constitutional changes proposed by Prime Minister Renzi which is obscure for lack of context. It would have been helpful to  have the date when all these pieces were written: one refers to Gianni Alemanno as the mayor but that seems light years distant.
It reads like a poor translation.  There are odd coinages such as musicarelli.  This induces the suspicions that words used may mean something else as in : (she)' spent her entire life assisting congresses organized by researchers'.   Here 'assisting' seems to mean 'attending'.   The last page, which gives the original site of publication of a few of the pieces, is called oddly: Comments. A Literary Journey to Rome
 Christina Hofferer
 Cambridge Scholars Publishing
 103 pages. £ 58.99