Tribute to Mina Mazzini in London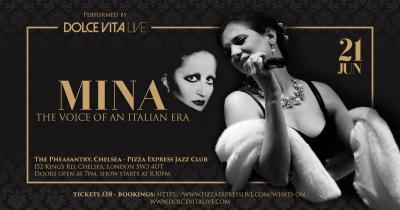 Mina, the voice of an Italian era
 LONDON-- The Dolce Vita band were performing a tribute act to the iconic Mina Mazzini thanks to the support and vision of entertainment company, Sternberg Clarke, and production company GS Live. 
 The event will take place at The Pheasantry in Chelsea, London's most exclusive and glamorous neighbourhood, for one night only on June 21. 
 The tribute event, never done before, will give guests the opportunity to revel in a voice that defined an era in Italy; when the country was the most sought after place on earth and the world looked to Rome as the lifestyle capital. 
 The London-based vintage Italian band, Dolce Vita Live, will recreate the sound of 1960s Italy under the direction of bandleader Bruno D'Ambra, featuring the amazing voice of Francesca Confortini as Mina, and taking the audience on a journey through the astonishing early career of Mina.
 Eclectic, eccentric and an electrifying performer, Mina was a towering figure in the Italian music scene for more than 50 years, delivering everything from rock n roll to opera with her unmistakable, three-octave soprano voice.
For more information and to purchase tickets, please visit:
www.pizzaexpresslive.com/whats-on/mina-the-voice-of-an-italian-era