Dutchman Dumoulin wins 2017 Giro d'Italia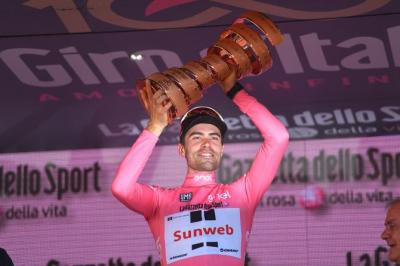 MILAN- Twenty-six year-old cyclist Tom Domoulin became the first Dutch winner of the Giro d'Italia as he produced a phenomenal individual time trial time to win the 100th edition of the race in Milan by 31 seconds.
 Dumoulin started the final stage in fourth position but his time trial of 33 minutes and 23 seconds was enough to leapfrog him three places up the standings to become the 2017 champion.
 There was disappointment for Italian cyclist Vicenzo Nibali, two-time winner of the Giro d'Italia and this year's defending champion, as he produced a mediocre time trial time before eventually finishing third in the overall standings.
 Nibali and Dumoulin were joined on the podium by second place Colombian cyclist, Nairo Quintana, who struggled to defend his advantage on the flat route of the Milan stage, more suited to sprinters.
 The Colombian was chasing a Giro d'Italia and Tour de France double but had to accept a second place finish.
 Speaking after his victory, the Team Sunweb champion Dumoulin told Italian media that day had been "really crazy."
 "This is incredible. It was such a nerve-wracking day but I had good legs and I just went for it."
 "I would have been really happy with a stage win and that would have been a successful Giro for me. I didn't think that this was something I could do," added Dumoulin.
jj