G7 stalemate as Trump refuses to tackle climate change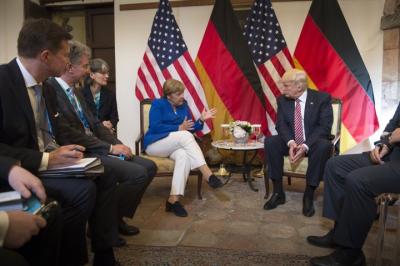 Merkel tries to persuade Trump to stay in Paris accord
 TAORMINA—  World leaders left the G7 summit frustrated after failing to persuade U.S President, Donald Trump, to commit to Paris climate change accord, while Italy were disappointed by the lack of support shown by their colleagues in the face of the migrant crisis.
 Seven leaders from the world's richest countries met at Taormina resort in Sicily to discuss issues gripping the international community, with climate change at the top of the agenda.
 Yet after the two-day summit, no indication was given from the U.S. Head of State as to whether he would be withdrawing his country from the 2015 Paris climate change accord, signed by 200 countries committed to tackling global warming. The other six world leaders reaffirmed their commitment to the 2015 pact.
 "The whole discussion on the topic of climate was very difficult, not to say very unsatisfactory," said German Chancellor, Angela Merkel "here we have a situation of six against one, meaning there is still no sign of whether the U.S. will remain in the Paris accord or not," she added.
 In his election campaign, Trump promised to withdraw the states from the 2015 Paris climate change accord, claiming that global warming was a hoax invented by the Chinese.
 However, Trump's economic advisor Gary Cohn, told reporters on Saturday that the Republican President shouldn't be written off as a lost cause yet.
 "His views are evolving, he came here to learn," Cohn said. "His basis for a decision ultimately will be what's best for the United States."
 Climate change was also at the centre of the discussion at Trump's audience with Pope Francis, with the Catholic leader urging the president to respect environment and take climate change seriously.
 Trump will announce his decision on America's commitment to tackling climate change on Friday.
 Paolo Gentiloni, the Italian Prime Minister, left the summit even more deflated than his colleagues. He received little backing for his calls to open up more legal channels for immigration, which would the pressure off the highly dangerous, and illegal, channel between Libya and Italy.
 Reuters reported that a European diplomat, who wished to remain anonymous said, "there was very strong opposition by the Americans and British who wanted to refocus on security and water down the expansive language on freedom of movement."
 Despite the seeming lack of cohesion on major issues, the final communiqué was just six pages long, considerably shorter than last year's 32 page document, which the leaders hope will be more accessible to a wider audience, diplomatic sources said. 
tm