Trump concludes trip, meeting Mattarella and Gentiloni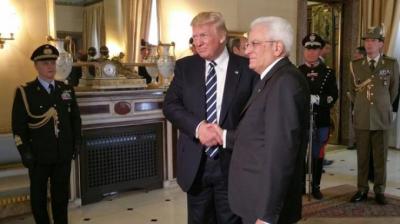 Donald Trump and Sergio Mattarella
 ROME-- U.S. President Donald Trump finished off his flying visit to the Eternal City, meeting with the Italian President, Sergio Mattarella, and Italian Prime Minister, Paolo Gentiloni, late Wednesday morning. 
 Trump met Mattarella at the Quirinal Palace, accompanied by his Secretary of State, Rex Tillerson. The POTUS received military honours in the Palace courtyard before he was received by the Italian president. 
 Mr. Trump then met with Italian premier Paolo Gentiloni at the U.S. Ambassador's residence, Villa Taverna, before leaving for Brussels. 
tm