Trump, climaxing tour, has audience with Pope Francis
Trump meeting Pope Francis
 VATICAN CITY – U.S President Donald Trump had a colourful audience with Pope Francis Wednesday that Trump dubbed "a great honour" but it was unclear if progress was made in reconciling their views.
 The two men shook hands in front of photographers, Trump looking smiley and casual in unbuttoned jacket, while the Pope appeared more serious, and then had a 30-minute private conversation.  Diplomatic sources said terrorism, in the wake of the deadly attack in Manchester, and climate change were at the top of their agenda.
 Trump is reported to have told the Pope "for me it's a great honour to be here," and added, "I will not forget what you have said me" when the two leaders said their goodbyes.
 During the audience, the U.S. President's wife and daughter, Melania and Ivanka, waited outside, and spoke with Vatican prelates. They were both dress in black, with veils covering their faces, according to Vatican protocol. Only Catholic queens are permitted to wear white when meeting the Pope. 
 After the private audience, the two delegations exchanged official gifts. The Pope gave Trump a medallion engraved with an olive branch, and explained "I'm giving this to you because it is an instrument of peace." He also gave the POTUS three books- one on family, another on the joy of the Gospel, and finally one about 'the care of our shared home: the environment.'
 First Lady, Melania, brought a rosary with her and asked for the pope to bless it. He obliged, tracing the sign of the cross on her palm, and then went on to bless all the rosaries that the delegation had brought along with them. He also gave all those present a pontificate medal.
 The meeting lasted 40 minutes in total, including the exchange of gifts, and took place first thing in the morning, kicking off at 8:15.
 Locals of the Vatican area spoke about the surreal atmosphere in and around St. Peters Square. The typically noisy and tourist-filled streets were almost empty, and there was little to no traffic. They also reported an increase in police presence in the area, and noted the unusual cleanliness of the streets.
 After the audience with the pontiff the American president together with his wife and daughter visited the Sistine Chapel and St Peter's Basilica.
 Trump also had visits scheduled with the Italian President, Sergio Matarella, and the Italian Prime Minister, Paolo Gentiloni.
 The U.S. delegation were then leaving for Brussels first thing on Wednesday afternoon to attend the NATO summit happening on Thursday, before touching down on Italian soil once again for the G7 summit, taking place in Sicily. 
tm-jp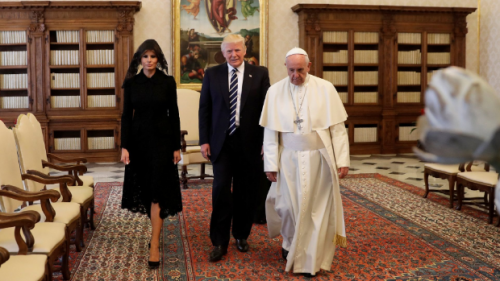 Melania Trump, Donald Trump, and Pope Francis