Zverev steamrolls Djokovic to win Rome title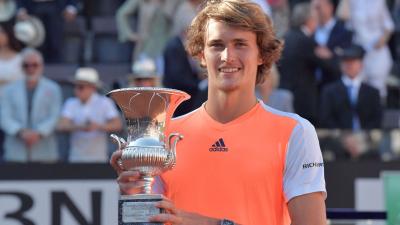 ROME—German tennis player Alexander Zverev beat the world number two Novak Djokovic in straight sets, 6-4, 6-3, to win the BNL Internazionali d'Italia on the Campo Centrale in Rome, Sunday.
 The 20-year-old German is now the youngest player to win a 'Masters' event since Djokovic himself claimed the Miami Open in 2007.
 Zverev entered the final as the underdog, given the calibre of his opponent, but Djokovic was unable to better his performance in 2016, where he also lost out in the final, on that occasion to current number one Andy Murray.
 The young German dominated the match from the start, crucially breaking the Serbian's serve in the first game of the contest. From that point he never looked back, combining a flawless serving performance with a series of commanding ground strokes that never enabled Djokovic to impose his game on the youngster.
 After wrapping up the first set 6-4, he broke Djokovic' serve twice in the second set to canter to victory in under two hours, winning the second set 6-3.
 The result is the latest in a string of disappointing performances for the Serbian, who received a code violation for an audible obscenity in the second set, as his frustration began to boil over.
 Following the defeat, Djokovic announced that he had hired eight-time Grand Slam winner Andre Agassi to be his new coach, after he split from his previous backroom team earlier in May.
 "I spoke to Andre the last couple weeks on the phone, and we decided to get together in Paris. So he's going to be there," said the Serbian
 "We'll see what the future brings. We are both excited to work together and see where it takes us."
 "We don't have any long-term commitment. It's just us trying to get to know each other in Paris a little bit," he added.
Meanwhile, Zverev will move into the top ten of the world rankings after the perfect preparation for next week's French Open at Roland Garros.
jj