Monster stage erected in historic centre for summer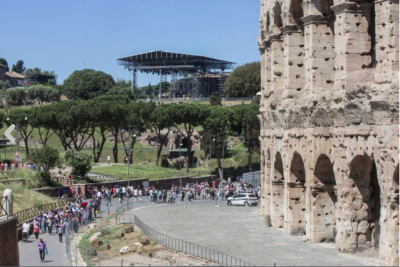 The stage will have a view over Imperial Rome
 ROME—A huge stage, called 'Domus Arena,' was being constructed next to the Fori Imperiali and Colosseum in preparation for the musical 'Divo Nerone'. The new addition to the capital's historical centre has not gone unnoticed, with various Romans voicing their distaste for the 'monstrosity.'
 The structure will be there until September 10, with musical performances kicking off on June 1, and will play host to around 3000 spectators a night. There will be three tiers of tickets- 'senators' for 180 euros, 'knights' 125, 'cavalry' 80 euros and 'colosseum' 45.
 In the description for the show, the organisers sell it promising its spectators a unique view over ancient Rome. "All ticket holders… will be granted a private access route to the Domus Arena which will allow a nightime view of the forums from up high."
 The musical is a rock one, is based on the script by Franco Migliacci, and is being organised by Jacopo Capanna and Christian Casella. "We started asking permission for the show from the state superintendent two years ago," they explained "the approval from the minister was only granted because of our commitment to safeguarding and respect. The agreement stipulates that we give 3 percent of our total profits to the state."
 "We have taken precautions. We will use a T Max system, a kind of acoustic enclosure that limits sound to a specific area," they added.
 However, in spite of the economic benefits for the city and the organisers' careful precautions, the visual pollution of one of the most iconic areas in the Eternal City is too high a price to pay, according to some.
 Adriano La Regina, the archaeological superintendent in Rome and a well-respected academic labels the stage as "a ridiculous construction, and an alteration in the historical landscape of Rome." He went on to explain that "the entire area is very delicate, Heliogabalus' temple is there… it's shameful. Disgraceful behaviour."