Migrant misinformation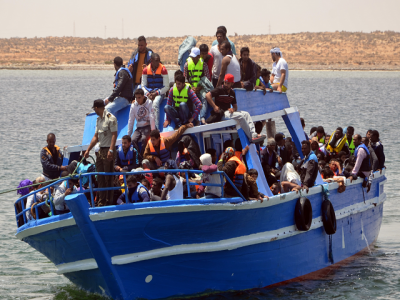 The migrant crisis gripping the world is reaching breaking point, government agencies and NGOs are at war over allegations of inhumanity on both sides. The way out of Africa now is through Libya, whose lawless state makes the situation even more precarious.
The border agency, Frontex, has recently accused NGOs of being complicit in human trafficking and facilitating the illegal Mediterranean crossings by providing migrants with phone numbers to representatives from the charities.
NGOs have fought back against these claims, making it very clear that the anarchy of the North African country would prevent any kind contact or arrangement with the tracking bosses. Indeed, when you see the rudimentary boats coming in from Libya, packed full with migrants, the idea of one of them making a leisurely call to an NGO is completely laughable.
It begs the question of why Frontex, and other government organisations, are making such wild claims. Would it be too cynical to say that it's all out of self-interest? That discrediting NGOs means fewer private donations, less funding means fewer search and rescue missions, with the overall result being fewer migrants on European soil. And fewer migrants is surely a huge plus for the politicians, who are desperately trying to calm the fear, and indeed anger, of their citizens towards the swathes of illegal fishing boats docking on their shores.
But what are we left with if we close off all the borders, and limit aid granted to those who do manage to make it across the Med? A humanitarian crisis. Either we're forcing migrants to endure horrendous conditions in Libyan detention camps, or letting them drown. Both responses are simply not good enough.
It's not all doom and gloom, however. The UNESCO Houphouet-Boigny Peace Prize was awarded jointly to the NGO SOS Méditerranée and the Mayor of Lampedusa, Giuseppina Nicolini, for their efforts to help migrants both in the sea and on land. It's this kind of recognition that will increase funding to tackle the crisis at hand, and, in turn, provide a solution beyond the quick fix of building walls and closing borders.