Trash talk worsens as Democratic Party clean up capital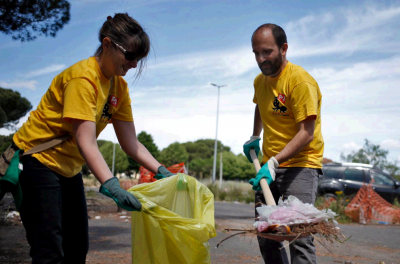 Yellow t-shirts cleaning up the capital
 ROME-- Tensions were running high in the capital on Sunday as volunteers from the Democratic Party turned up in their yellow t-shirts to clean the squares and parks of Rome. Around 1000 volunteers came in response to an appeal from the party leader, Matteo Renzi, who has been hypercritical of the Mayor, Virginia Raggi's, management of the city's waste.
 The national President of the Democratic Party, Matteo Orfini, was among the volunteers cleaning up a park on the outskirts of Rome, in Tor Bella Monaca. The politician insisted that their volunteering was not a snub to the city's current Mayor, arguing that they've been cleaning up the city for over a year and "the person who administers the city should be thanking the thousands of citizens who are giving up their Sundays to clean."
 The leader of the party, Matteo Renzi, agreed with Orfini, writing in a Facebook status that, "today the Democratic Party has descended on the squares of Rome not to protest but to clean up, help out, improve the quality of life in the capital…"
 Raggi, however, rebuffed claims from the Democratic Party, responding "in the last few years the number of citizens who clean up the city, either by themselves or as part of an organisation, has greatly increased… In the last couple of hours a well-known party, the Democratic Party, the one responsible for the poor running of Rome for the last 20 years, has finally decided to clean up, clearly because of the well-known principle 'whoever makes the mess cleans up'… we hope it's not just an election stunt- we hope they'll do this not just this Sunday but every Sunday for the next 20 years."
 Meanwhile, the rubbish situation is slowly returning to normal thanks to Ama, the company in charge of Rome's rubbish, putting in extra shifts in the past week, after serious health warnings were issued concerning the waste manangement in the city.
tm