Trevi Fountain tourist one way system to be introduced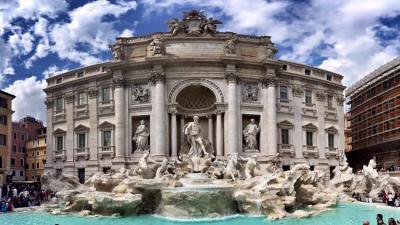 ROME-- The Mayor of Rome, Virginia Raggi, has announced a one-way system for tourists visiting the Trevi Fountain. The new, strict measures come as a response to increased incidents of tourists disrespecting the historical monument in the Eternal City.
 The system will be in place from 9am until midnight, including weekends and public holidays, and will be enforced by a group of volunteers. Raggi hopes to have the crowd control measures in place by the end of May, with the date May 29 already in mind.
 The priority now is to enlist enough volunteers to make the system effective.
 "The service will be coordinated by police officers from the GSSU (Rome's local police office) who will be present in the square," states the plan "…the volunteers' function will be to channel the flow of tourists. It's clear that there will have to be a good number of volunteers to make the new visiting system efficient, which will start at 9am and finish at midnight."
 The system will require a minimum of 10 volunteers, but the Mayor hopes to have at least 15 once the system is well established. They are still looking into ways to free up resources that will enable them to pay the volunteers.
 The public will arrive at the fountain, and then be directed to the central point, they will be allowed to walk down the stairs to the fountain, but not sit on the ledge. They will be allowed to take a picture and toss a coin into the fountain, but then will be directed to the exit on the left-hand side of the square. The right-hand side of the fountain (when facing it) will be completely off limits to tourists.
 It is hoped that this new system will put a stop to tourists mistreating the fountain, and bring some order to the overcrowded square. 
tm