Real win sets up heavyweight final spar with Juventus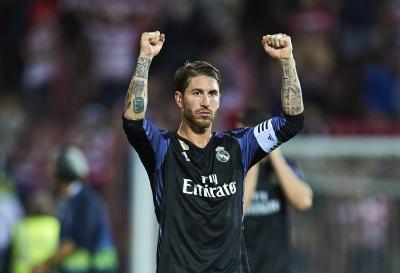 Sergio Ramos celebrates Real's win
Turin— The 2017 UEFA Champions League final will be contested by Juventus and Real Madrid, after the latter overcame their spirited rivals Atletico Madrid 4-2 on aggregate Wednesday night.
Real Madrid are the reigning champions of Europe and were expected to reach the final after a Cristiano Ronaldo hat-trick inspired them to a 3-0 victory over Atletico in the first leg.
However, Los Rojiblancos had other ideas as they stormed to an early 2-0 lead through Saul Niguez's powerful header and an Antoine Griezmann  penalty.
Despite the fast start, Real scored their crucial away goal just before half-time when a world class run from Karim Benzema set up a vicious Toni Kroos strike, the initial shot was brilliantly saved by Atletico goalkeeper Jan Oblak, but Isco was on hand to bundle home the rebound which all but ended the contest for Diego Simone's side.
Wednesday's resurgence was too little too late for Atletico as the 2-1 victory was not enough to overturn the deficit, meaning it will be eleven-time champions of Europe Real Madrid who will meet Juventus in Cardiff June 3.
The final is the type of heavyweight encounter that football fans across the world dream about.
It will be a re-run of the 1998 final, when Real claimed their seventh European title courtesy of a 1-0 victory.
The current Real Madrid manager, Zinedine Zidane, played in that game for Juventus, whom he represented for five years from 1996 to 2001.
"It (Juventus) has been a very important club for me in my career and I keep it as a club that has given me everything. It (the final) is going to be something special," said Zidane.
jj