Civitella Ranieri- A haven for international artists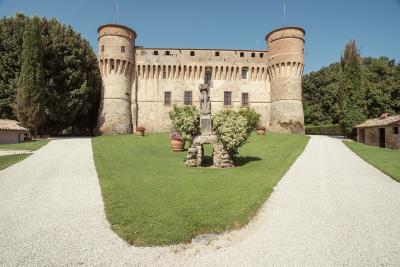 Civitella Ranieri from the front
 UMBERTIDE-- The Civitella Ranieri Center, tucked away in a 15th century castle in lush Umbrian countryside, has been receiving Fellows from the arts for the past 22 years, though it has unofficially been a haven for artists and intellectuals for much longer.
 Ursula Corning, an American woman and Civitella's patroness, established the castle as a buzzing hub for international artists, poets and writers during the summers when she hosted her friends from all over the world. Before she died, she started up the Foundation as it is today, so that Civitella would always be a hive of creative energy.  
 The artists' retreat has come a long way since it first opened its doors in 1995, now accepting 12-15 Fellows for every six-week period, of which there are four every year. Potential Fellows are first put forward by a carefully selected nomination committee, and their applications are then considered by a review jury.
 The Foundation provides board and lodging for the Fellows during their stay and, most crucially, their airfare, allowing artists from all over the world to share in the unique Civitella experience.
 The centre's current director, Dana Prescott, explained that by paying for the airfare, they are able to ensure international diversity, inviting participants who may otherwise be inhibited by economic barriers. In recent years, for example, the castle has played host to Fellows from Syria, Bangladesh, Malaysia, Nigeria, and Bulgaria.
 In the future, they hope to welcome artists from more African and Middle-Eastern countries, seeing these corners of the world as the ones they have left to "crack."
 Seeking out Fellows from new countries each year is a crucial to maintaining international diversity. Each fellow is given the opportunity to nominate a future participant, which creates a legacy, and establishes a continuous connection with the Fellows' home countries.
 I had the pleasure of meeting the current season's Fellows, and it was clear that the director had succeeded in casting the Foundation's net across the globe. From a Parisian filmmaker, to a Chilean novelist, a Russian animation designer to an American poet, Civitella has it all.
 I was particularly interested in the work of Roberto Ampuero, who has lived in Germany, Cuba, Sweden, Mexico City and the US, in addition to his native Chile. He has written a constellation of novels, a great majority of which were politically motivated, contributing to the Latin American tradition of using literature as a tool to comment on, and demystify, the continent's intricate socio-political history. For me, his far-reaching and politically engaged literature epitomises the Civitella ethos, as he uses art to challenge the status quo and pose provocative questions to his readership.
 Gabrielle Le Bayon, a Parisian artist and filmmaker, was similarly engaging, describing how she makes use of both text and film to depict popular legend and mythology, exploring the nature of human communities and interactions in the process.
 What every fellow had in common, however, was their appreciation of the magic of Civitella. The castle offers a completely unique experience to the resident artists- its isolated setting provides distance from the distractions of daily life, granting its residents unfettered time to reconnect with their artistic motivations, often resulting in landmark projects.
 The centre's Director, Ms Prescott, comments, "many of our Fellows come from countries where censorship of work, especially political work, is a stark reality.  Civitella provides a safe haven for them to work without censorship on whatever projects they wish to pursue."
 The sense of community and safety fostered within the castle walls is also thanks to its relationship with the local community, which has been one of mutual support since Ursula first came to Civitella decades ago. Ursula was always sure to shop locally, a tradition honoured by the Foundation today, which makes an effort to source all their produce either from their own gardens, or within a 50km radius of the castle. They also employ most of their 10 members of staff from the nearby town Umbertide.
 As well as contributing significantly to the economy of the region, the castle offers a public program of cultural enrichment, and is a source of great pride for members of the local community, with 1,000 people attending the most recent FAI (Italian National Trust) open day, in spite of it taking place out of season.  In addition to the official open days, the centre unbolts its doors once a year for outdoor cinema screenings, and hosts various talks and exhibitions during the residency sessions.
 In a time when all the evil in the world, especially that coming out of the US, is getting so much press, it's refreshing to remember that something so progressive and wholesome is taking place, thanks to the actions of one American woman. Civitella champions the idea of a global citizen, defiantly breaking down borders by bringing artists together from all over the world, and facilitating engaging conversations and exchanges that lead to life-long friendships. 
 Alexander Chee, a recipient of the Fellowship in 2011 wrote about his experience, a year on, saying he "still can't believe it happened." And you can see why. There is something truly spellbinding about the castle, which makes you feel like you're living out a long-forgotten childhood dream, and something truly humbling about participating in discussions that span continents and generations. My three-day stay at Civitella has left me ideas that have broadened my worldview, and memories that I will treasure for years to come. 
tm