Unstoppable Juventus waltz past Monaco into UCL final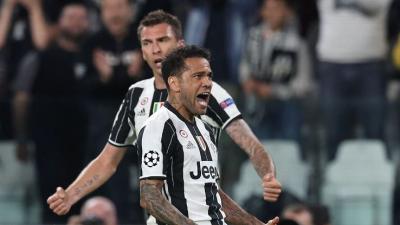 Dani Alves smashed home a stunning volley in the second-leg to send Juventus to the final
TURIN—Juventus secured their place in their second UEFA Champions League final in three seasons with consummate ease, thanks to a 4-1 aggregate victory over French side Monaco. The win continues the Italian side's dream of lifting a first European title in 21 years.
 Taking a 2-0 lead into the second leg, two first half goals from Mario Mandzukic and Dani Alves extinguished any hopes of a miraculous Monaco comeback. Despite a late consolation goal for French wonderkid Kylian Mbappe, the party in Turin had already started as Juventus won 2-1 on Tuesday night to seal a comprehensive 4-1 aggregate win.
 However, it was the visitors who started the game the brightest, perhaps riled by the Juventus fans' overconfident  'Time for Cardiff' mosaic that was created in the stands, a reference to this year's final venue.  In the opening minutes, that man Mbappe took advantage of a deflection before sliding the ball agonisingly across the face of goal onto the foot of the post, the Frenchman was ruled offside, but it was definitely a warning for the Bianconeri.
 Just like Juventus have done all season in Europe, they responded in perfect fashion. After soaking up Monaco's early spell of pressure, the home side began to show their own attacking capabilities. Croatian Mario Mandzukic opened the scoring on 33 minutes as he stabbed home Dani Alves' perfect cross after his initial header was well kept out by Monaco keeper Danijel Subasic. It was an inspired 20 minutes for Subasic, as he was forced into making several crucial saves from Gonzalo Higuaín, Claudio Marchisio and Paolo Dybala to keep the scoreline respectable.
 Juventus eventually doubled their lead just before half-time through a wonderful long-range volley from man of the match, Dani Alves, who perfectly judged Subasic' punch from a corner before lashing home his effort from outside the box.
 The Alves goal was the nail in the coffin for Monaco and Mbappe's smart finish from Joao Moutinho's cross on 69 minutes was nothing more than a consolation. However, it was no consolation to Juventus headcoach Masssimiliano Alegri, who appeared furious that his side had conceded a goal, despite their dominant position. The Italian's arms were waving, his head shaking, frustrated that his side's staggering record of not conceding in 690 minutes of European football was over.
 It was all smiles at the final whistle for Juventus, who will most likely face Real Madrid in the final in Cardiff June 3, depending on the result of their second leg against rivals Atletico Madrid.
 "Getting to the final doesn't mean anything," said legendary goalkeeper Gigi Buffon, "but you have to keep believing in your dreams."
 Buffon was yet again the rock behind another textbook defensive performance over two legs from the Bianconeri, after they had previously nullified Catalan giants, Barcelona at the Camp Nou to reach the semi finals.
 "They built a mountain," said Barcelona defender Gerard Pique on Juventus' impressive defensive performance in Barcelona. Whilst Alegri himself said that he felt his side "could have played for a day and not conceded." The Turin side will need to continue their fine defensive record if they are to contain the likes of Cristiano Ronaldo in Cardiff.
 So, The Bianconeri, The Old Lady of Italian football, have undergone quite the transformation since 2011 and are once again in the final of the Champions League. Following an impressive but not unthinkable run of 17 successive victories in Serie A this season, Juventus are poised to claim a sixth straight Scudetto since the move to their new stadium. During the past two seasons the team's domestic dominance has also been rewarded with two Coppa Italia titles.
The only glaring absence from the club's Renaissance is a UEFA Champions League trophy.