Inaugural urban art exhibition opens in Rome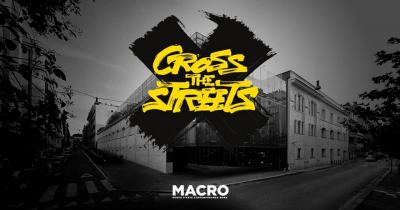 Cross the Streets displays over 200 street art exhibits. Photo: Simon d'Exéa
ROME—'Cross the Streets' celebrated its inauguration party at the MACRO Museum of Contemporary Art in Rome, as for the first time an exhibition inspired by counterculture entered a museum in the Eternal City. 
 Cross the Streets displays an array of street art through various different platforms, in addition to historicising the increasing global influence of the street art movement over the last 40 years.
 The exhibition was produced by the international publishing house Drago, together with nufactory and the ABC Project of Lazio.  The event was also promoted by the Rome Department for Cultural Growth and the Capitoline Superintendency for Cultural Heritage.
 The curator of the project is revered street artist, Paulo Lucas von Vacano, whose inspiration for the exhibition came from his ongoing research on Street counterculture.
 "The street watches and the street governs. Choosing creativity instead of crime is a stance that encourages art, music and sports. The revolution occurs when the street enters the museum and the museum becomes the street," von Vacano said.
 The exhibition defines street art as 'a unique avant garde that unifies youth, minorities, and the marginalised in an era of globalisation.'
Cross the Streets exhibits various urban art movements, including graffiti, stencil art, pop-surrealism, photography and film.
 Incidentally, in 1979 Rome became the first European city to host an organised graffiti exhibition. The collections, "Writing in Rome, 1979-2017", concentrates on the relationship between Rome and Street Art, covering its arrival in the 80s, the discovery of the underground and train carriages in the 90s, followed by its transition from the street to the gallerys in the 2000s. This particular display is curated by Christian Omodeo, the founder of French urban bookshop, Le Grand Jeu.
The exhibition runs from May 7 to October 1, during the course of these months the Capitoline Superintendency for Cultural Heritage has organised a series of lectures on topical issues related to street art such as, issues of ownership, the rights of the artist, and the legality of urban art.
Tickets are available at: http://www.museomacro.org
CROSS THE STREETS
Curated by: Paulo Lucas von Vacano
MACRO - Museum of Contemporary Art in Rome
Via Nizza 138, Roma
Hours: Tuesday through Sunday from 10:30 - 19:30 (Ticket Office closes at 18:30) Closed on Monday 
Christian Omodeo. Photo: Simon d'Exéa