Pope Francis sets off for Egypt with peace message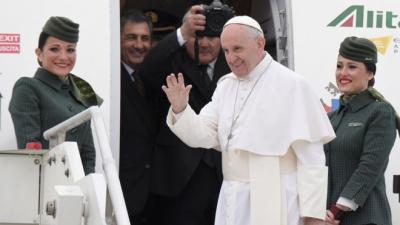 Pope Francis set off in an Alitalia airbus
 VATICAN CITY-- Pope Francis took off for Egypt from Rome Fiumicino at 11:07 Friday in an Alitalia airbus. He went to the North African country with the motto "Pope of peace of Egypt of peace", which he has chosen for the trip.
 It is his 18th international trip, and will last two days, during which he will reach out to the small Coptic community, and offer his support after the recent attacks on the churches by Isis.
 After being officially greeted at the Egyptian airport, a welcome ceremony will take place at the Presidential Palace in Heliopolis.
 At the palace, the pontiff will pay a courtesy visit to the president of the Republic, Abdal Fattah Al-Sisi. He will then go to Al-Azhar, the biggest Sunni university, and to the big imam Ahmad Al-Tayyeb, participating in the peace conference that will take place there.
 At around 5pm, the pope will visit the Coptic-orthodox Patriarchate, meeting with the patriarch Tawadros II, and the nearby St Peter's church, which was struck by Isis attacks on Dec. 11, with 10 killed and injured. 
 jp-tm