Pope Francis to honour martyrs of Church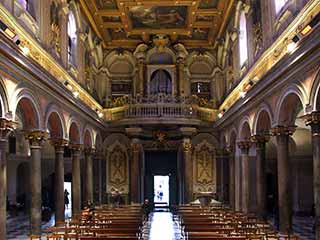 Basilica of San Bartolomeo
 ROME-- The Community of Sant'Egidio was preparing to receive Pope Francis at the Basilica of San Bartolomeo, which was dedicated to the memory of the "New Martyrs" in 1999. 
 The liturgy will take place on Saturday April 22 from 5pm onwards, where the pontiff will commemorate martyrs of the Church.
 During the course of the service, three relatives and friends of martyrs will speak- Karl Schneider, whose father, Paul, a pastor, was killed in 1939 for opposing Nazism; Rosselyne, sister of Father Jacques Hamel, who was killed in Rouen last July; and Francisco Hernandez Guevara, friend of William Quijano, a young member of the Community, who was killed in September 2009 for trying to offer adolescents in his neighbourhood an alternative to the Maras, the gangs who propagate terror in the Central American Country.
 The pope, at the end of his sermon, will pay homage to the six chapels attached to the Basilica which house the relics of martyrs, who died at the hands of the Nazis, from Europe, Africa, America, and Asia.
 A candle will be lit for every prayer said in memory of great displays of faith throughout the 20th century, up till present day- from victims of massacres the First World War, to those being murdered by the mafia, and the many missionaries who, all over the world, have given up their lives for the Gospel.
 At the end of the prayers, Pope Francis will meet with, next to the Basilica, a group of refugees who arrived in Italy through the well-trodden route used by human traffickers, including those who were victims of sexual violence and children who arrived on the peninsula unaccompanied. 
tm