Pope Francis to canonise Fatima shepherd children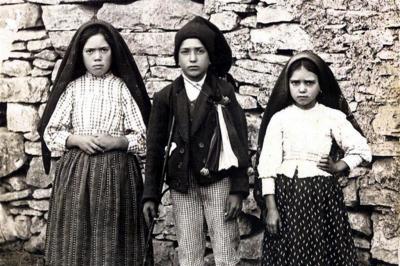 Giacinta and Francesco Marto with their cousin, Lucia dos Santos
 VATICAN CITY-- Pope Francis has confirmed that he will be canonising, on May 13, the children who saw visions of the Virgin Mary in the Portuguese city exactly 100 years ago on said date. The ceremony will take place in front of the shrine to Mary in Fatima, which the pontiff is visiting as part of his papal tour.
 Francesca and Giacinta Marto, siblings who were just nine and 10 years old when, together with their cousin Lucia dos Santos, they sighted the Mother of God in a grazing field called Cova da Iria, just outside of Fatima. They will be the first non-martyr children to be elevated to sainthood in the history of the church.
 After Mary first appeared to the children on May 13 1917, she then appeared to them every month on the 13th day until October of that year, on which day thousands gathered to witness "the miracle of the sun" having got wind of the apparitions. On that October 13, those gathered supposedly saw the sun dancing and approaching them, and the children have retained their legendary status since.
 The two children never reached adolescence, with Francesco dying from Spanish Flu on April 4 1919 and Giacinta meeting the same fate 10 months later on February 20 1920.
 Their cousin, Lucia, joined a covent. In 1941 she revealed that Mary had told her and the siblings three secrets- the first was a vision of hell; the second was a premonition of the Second World War; and the third, which she finally revealed in 1957, was a prediction of the assassination attempt on John Paul II.
 The two children were beatified by John Paul II 17 years ago, in 2000, also on the anniversary of their first visions of the Virgin Mary. 
TM