'Rape probe' highlights WFP security concerns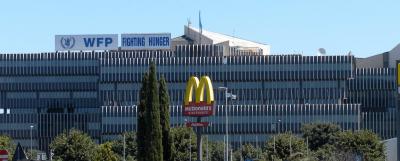 WFP headquarters and sign for nearby Macdonalds. Photo credit: Amorama
ROME – As if defending WFP's budget were not enough, new Executive DIrector David Beasley may order a review of security at the UN agency's headquarters following reports that the commute to the local Muratella railway station is considered unsafe and that an investigation is under way into the alleged rape of a WFP staffer, WFP sources say.
 Security guards at the agency officially are available to help women staffers who request an escort on the route to the train station where harassment by lowlifers has been reported and confidence tricksters posing as police officers have operated in the leafy area of the Paerco dei Medici in past.
 A WFP spokesman told Italian Insider that "when it is dark or after working hours and upon request of staff, WFP security staff accompany staff members to the train station."
 "New staff are informed about this service during the weekly security briefings. WFP liaises closely with the Italian authorities on security issues for staff members who travel to headquarters."
 Nevertheless there have been reports that the security staff sometimes are reluctant to accompany staff to the station when requested lest they leave the front gate office short staffed or because they don't want to go out into the cold.
 In a separate development, an investigation evidently was opened at the agency after one staffer claimed she was raped by another in the headquarters building in an incident that took place while Ertharin Cousin was executive director, sources at the agency told the Insider.  
 Asked about the reputed rape, spokesman Francis Mwanza told Insider "WFP does not comment on personnel issues."
 WFP watchers speculated that any such assault must have happened outside of main office hours. "Unlike at FAO, the doors of offices at WFP are usually open so anyone asking for help normally would be heard," a well-placed WFP source said.
 "Security staff doing their rounds did discover a director and a staffer having nooky in a car in the car park the other day," the source added, "but that was entirely consensual."
 Security at the WFP was reviewed by a former senior Carabinieri officer several years ago, mainly in the light of terrorist attacks at UN facilities in other countries, and was seen as a model for changes implemented at other UN agencies in Rome.
 jp